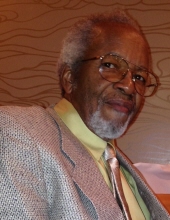 Obituary for Alonzo B. Sanford
Alonzo B. Sanford, 81, died March 15, 2021.
Serenity Funeral Home, Tel. (901) 379-0861.

It is with great sadness that we announce that Alonzo Bernard Sanford, father and friend, passed away after a long illness on March 15, 2021, at the age of 81.

Alonzo was born on January 21, 1940, in Memphis to Charles Lee Sanford from Memphis, Tennessee, and Dora Leo Little from Aberdeen, Mississippi. In 1953, at the age of 13, Alonzo and his mother then moved to Detroit, Michigan. A good student, he graduated from Northeastern High School a year in advance.

On August 2, 1963, Alonzo was drafted on August 2, 1963, Alonzo was drafted into the US Army at the age of 23. He served as a military policeman. He enjoyed boxing, and was given an honorable discharge in 1965 because of an injury he had received during a boxing match. Alonzo then attended Detroit Barber College, became a Master Barber, and "ran the numbers."

He wed his first wife, Ruby, and they were married for a year. He then married his second wife, Jacqueline Holt, on July 10, 1976, and they were married for 11 years. During this union, they had two wonderful daughters, Jayda and Jawanna. Alonzo was a devoted father and loved them dearly.

In August 2001, Alonzo married his third wife, Sandra Louise Young. They relocated to Cordova, Tennessee, in 2006. They were married until her death on July 16, 2017.

Alonzo was an avid music lover, especially of Motown artists. Occasionally, you could catch him singing in his deep baritone voice. He also played the guitar, enjoyed attending concerts, and going to house parties. He was friendly, outgoing, loved to laugh, and he was always cracking jokes. Alonzo was also a great cook and loved watching sports.

He is survived by those who cherish his memory: two daughters, Jayda Philson and Jawanna Mitchell (Ronyeld); two grandsons, Jaxon and Jett Philson; two granddaughters, Riley Philson and Morgan Mitchell; his sister-in-law, Gwendolyn Guy (Charles); and many, many friends.

Alonzo B. Sanford lived to be 81 years old. A great accomplishment in itself. May he forever be remembered for being kind and always trying to do right by others.