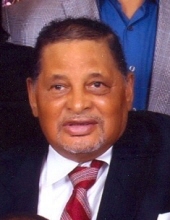 Obituary for Baby Ruth Brewer
Baby Ruth Brewer, 88, died May 25, 2019.

Baby Ruth Brewer was born May 18, 1931 in Carroll County, Mississippi to James & Steve Anna Brewer. Baby Ruth was the youngest of four sons. He excepted Christ at an early age. His devotion to God is evident by his evangelism and study of God's Word. He was united in holy matrimony to Essie M. Smith (September 23, 1952). To this union twelve (12) blessed children were born. After the death of his wife Essie M. Brewer (1982) of twenty-nine years of marriage, he married Freddie Ray Buckhalter March 23, 1985.
During his 33 year tenure at United States Steel Corporation as a dedicated worker, his undying thirst for knowledge led to him obtaining his GED at the age of 36, setting an example for his children on the importance of completing their education. His favorite pastime was gardening where he enjoyed giving away the fruits of his labor to neighbors, friends, family and strangers. He was a master of carpentry, masonry and home renovations.
As a consummate provider, he simultaneously held several positions at three (3) of the regions largest steel mills; United States Steel, Inland Steel and Youngstown Steel.
Baby Ruth Brewer was proceeded in death by his father James Brewer, mother Steve Anna Brewer-Morgan, wife Essie M. Brewer, wife Freddie Ray Buckhalter, brothers James (Gus), Monroe, and John Brewer, his children Jeffrey, Wade A, Theresa, Kenneth, Yulonda and Thomas Gregory.
He leaves to mourn his death; sons Calvin J. Brewer (Wileena), John (Kim) Brewer, Brian K. (Toinette) Brewer and Mauricy A Brewer, daughters Steave Anna (Kenneth) Jones, JoAnn L. Brewer, twenty-eight (28) grandchildren, nineteen (19) great-grandchildren, a host of nieces, nephews, cousins and friends.

Serenity Funeral Home, Tel. (901)379-0861.


Previous Events
Visitation
Serenity Funeral Home
1638 Sycamore View Road
Memphis, TN 38134
Service
Serenity Funeral Home
1638 Sycamore View Road
Memphis, TN 38134
Cemetery Details
Location
Bartlett-Ellendale Cemetery
7044 Memphis Arlington Rd
Memphis, TN 38135