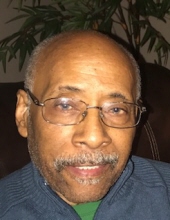 Obituary for Benjamin Harrison Sims, III
Benjamin Harrison Sims, III, 78, died October 2, 2019.

Benjamin Harrison Sims III, the eldest of six children, was born April 20, 1941 in Memphis, Tennessee to the late Marie Sims and Benjamin Harrison Sims II. He excelled both socially and academically, graduating from Melrose High School at the top of his class and served as class president. After graduation, he served a tour of duty in the United States Army during the Vietnam War. When he returned home, he enrolled in the University of Memphis (Memphis State University) and received his Bachelor of Science degree from the School of Arts and Science. He continued his education, receiving his Master of Science in Social Work from the University of Tennessee. Benjamin worked as a dedicated and committed Social Worker for the Veteran's Administration Hospital in Los Angeles, California and in Memphis, Tennessee.

Charlesetta and Benjamin Sims were united in marriage on August 19, 1968. Benjamin was a loving husband, dedicated father and grandfather. The building of love and character was primary in raising the family. He enjoyed gardening, meditation, cooking, and spending quality time with his family. He was a teacher, mentor, and advisor to countless friends and family members.

Benjamin is survived by his wife of 51 years, three daughters: Natalie Faye Sims, Melanie Marie Copeland (Mitchell Warfield Copeland), and Chloe Elaine Marshall, and three grandchildren: Demetrius Holmes, Mitchell Copeland Jr., and Maya Copeland, and five siblings: Charlotte Osborn (Deceased), Barbara Sims Taylor, Gregory B. Sims, Rosalyn (David) Jackson, and Rodney Sims. Benjamin leaves behind a host of loving nieces and nephews.

Serenity Funeral Home, tel. (901) 379-0861.


Previous Events
Service
Serenity Funeral Home
1638 Sycamore View Road
Memphis, TN 38134