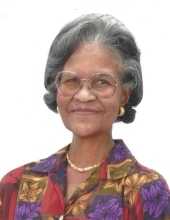 Obituary for Bernestine Jones
Bernestine "Bonnie" Grant Jones was born in Memphis on April 13, 1942, to Will "Bill" and Ella Mae Grant as the third of four children. On May 14, 1964, she married her husband of 58 years, T.C. Jones, Jr., who often referred to her as "Tina." That union resulted in five children, 17 grandchildren, and 29 great-grandchildren. But to many, many others, she was endearingly known as "Mama Jones" or "Grandma." During her life she was employed by Sears and Roebuck and Morrison's Cafeteria; however, it was in 1995, that she retired from Malone & Hyde grocery stores after 15 years of service. Over 40 years ago, she dedicated her life to Jehovah and was baptized as a member of the Christian Congregation of Jehovah's Witnesses. Since 2002, she attended the Cherokee Congregation Kingdom Hall in Memphis, TN. She fell asleep in death on Thursday, January 26, 2023, at her home in Memphis, TN surrounded by family.
Bonnie's life was full with her children, grandchildren, and great-grandchildren. The many life lessons she left behind include, "The two biggest liars in the world are 'he said,' and 'I heard,'" "Use your head for more than a hat rack and to hold your ears apart," and "Pretty is as pretty does." And she trained her daughters to represent when wearing a hat and that you aren't fully dressed unless you're wearing your heels. Her grandchildren, and eventually great-grandchildren, knew that Grandma was going to always have the refrigerator and the "food closet" packed with snacks, cereal, and pretty much anything they wanted. She leaves behind a legacy to love in the atmosphere of hate, to have strong faith in the face of adversity, and to hold your head up in dignity whether you "eat with the kings or sit with the paupers."
Besides her husband, T.C., she is survived by her five children, Carolyn Jones, Tony Jones and Kimberly (Marco) Clark, all of Memphis, TN; Lesley Hearron of Knoxville, TN; and Lori (Jeremy) Willett of Paducah, KY; as well as the granddaughter she affectionately referred to as her "sixth child," Alexandra (Bobby) Davis of Lakeland, TN. She also leaves behind one sister, Willie Mae Jones and one brother, Q.Z. "Sonny" Grant, both of Lancaster, CA; and her other beloved grandchildren: Jessica (Robert) Carpton and Nicholas Taylor, both of Paducah, KY; Takishia Rhodes of Memphis, TN; Ashley (Abel) Martinez, Blaire (Matthew) Gladfelter, Mack Hearron III, Cameron Taylor, and Candace Hearron, all of Knoxville, TN; Teterrica Vaughn of Murfreesboro, TN; Brittany (Jeremy) Walton, of Cordova, TN; Breanna Jones of Gallatin, TN; Mariah Holland-Thacker of Metropolis, IL; and Nairobi Brooks, Nikkel Brooks, Kasaiya Fuller and Tai'Zhan Fuller, all of Union City, TN, along with 28 great-grandchildren to whom she was lovingly known as "GiGi;" and a host of nieces, nephews, other loving family members and special friends.
Bonnie was preceded in death by her parents, Bill and Ella Mae Grant, her oldest sister, Maggie Lee Grant, one grandson-in-law, Chayton Holland-Thacker, and one great-grandson, Jaydn Marquise Taylor.
Serenity Funeral Home (901)379-0861
Read More
Previous Events
Visitation
Serenity Funeral Home
1638 Sycamore View Road
Memphis, TN 38134
Service
Kingdom Hall of Jehovah's Witness
3565 Kimball Ave.
Memphis, TN 38111