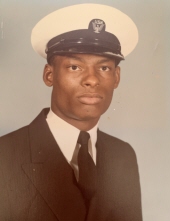 Obituary for Bruce Edward Paige, Sr.
Bruce Paige, died February 3, 2020.

Bruce Edward Paige was surrounded by the love of his family when he received his wings on Monday, February 3, 2020 at Methodist Hospice in Memphis, Tennessee.
Bruce was born on December 5, 1956 in Memphis TN, to Alton Ivy and Howard Booth. Bruce was baptized and believed in the Lord Jesus Christ. Bruce attended South Side High School and he received multiple degrees in Human Resources, Education and Accounting from Southwest Community College and the University of Memphis. Bruce applied these degrees to careers with the Internal Revenue Service and the State of Tennessee where he worked many years as a tax auditor until his retirement.
Bruce was joined in holy matrimony to Shirley Spears and through this union a son was born; Bruce Edward Paige, Jr.
Bruce leaves behind to cherish his life and memory three siblings: Curtisene Johnson, Steven Paige, Sr. and Annette Fondren (Casey); a son, Bruce Paige, Jr. (Tera); five grandchildren, Jacob, Kaitlyn, Bruce III, Ziyonna and Samari; two great-grandchildren, A'Miyah and A'Mynah and a host of nieces and nephews, including Tiffany, Toni, and Tracee, to whom he served as a father figure.
Bruce was preceded in death by his beloved mother, Alton Ivy; father, Howard Booth, Sr.; brothers, George Paige, Howard Booth, Jr.; sisters, Anne Booth and Aretha Flowers.
Bruce was loved by many for his quick wit, affectionate personality, fierce dedication; a true friend to the end and always willing to lend a hand.
Bruce was a loving son, brother, uncle, father, grandfather, cousin and friend. You could always depend on Bruce for a ride, help moving, help with a problem, tax advice, an overall honest answer or a "good cussing out".
Bruce loved to express himself and he made sure you understood how he felt. Bruce loved family get-togethers, cruising on his motorcycle, driving nice cars, traveling to different places, collecting guns and just shooting the breeze with friends.

Serenity Funeral Home and Cremation Society, Tel. (901)377-3543.


Previous Events
Visitation
Serenity Funeral Home
1638 Sycamore View Road
Memphis, TN 38134