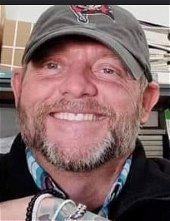 Obituary for Carl Patrick White
Pat was born on January 8, 1972. He passed from this life on April 25, 2023 at the age of 51. He leaves behind his wife Renee, 6 children: Colbe, Macy, Jack, Cash, Brady and Lily. He also leaves his mother Paulette Pinkham (Husband Bubba) and his father Woodrow White (wife Bobbie). Pat also leaves 5 sisters- Angela Starrett, Kimberly White, Candice Workman, Kaci White and Sophia White. As well as 3 brothers- Matt McClendon, Ritchie Pinkham, and Garrett Tynes. A host of nieces, nephews, aunts, uncles, cousins, and many friends.
Pat loved his family and his friends. He was an outstanding athlete and hilariously funny. He was always good for a laugh. Patrick #33 will be missed.
Until we meet again!
No public service or visitation.
Serenity Funeral Home, Tel. (901)379-0861.
Read More