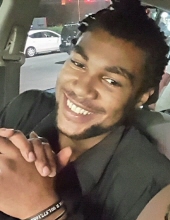 Obituary for Christopher DeShun Laury
Christopher DeShun Laury, 23, earthly journey ended December 18, 2019, of injuries sustained in a pedestrian/motor vehicle accident. Christopher was a loving son, brother, uncle, cousin and friend who will be missed by the many people whose lives he touched. Christopher was born March 1, 1996, to the parents of Luciana Laury and Christopher Washington. Christopher was truly a free spirit that took pleasure in the simple things and wanted to share them with his family and friends. He enjoyed skate boarding, movies, music and writing rap which he recently decided to call poetry while he improved his skills. He loved skate boarding, after watching the movie Lords of Dogtown his path to perfect the kick flips, ollie, 180, pop shove-it, kickflip and heelflip began. His path was rocky with cuts and scrapes, but he was determined to be great at it and loved showing his young cousins what he knew. Christopher loved movies and whenever he could, would plop down in a chair beside you and say, "so what are we watching"? Since the parent's room is always the best room in the house to watch TV, he was always getting kicked out the bed not to leave but would go around to the other side to finish the movie. Christopher had a passion for music of all kinds so much that he would play it loudly for hours. On occasion when called out about how loud it was, he would lean over the bannister and jokingly ask smiling, "Oh can you hear my music". Once, he had the whole upstairs shaking and was such a jokester about it, leaned over the bannister sweating and out of breath to say dramatically bracing himself, "Oh did you feel that, it feels like an earthquake." Christopher's greatest enjoyment was writing rap. He had a way with words, carrying around a notebook to write down his lyrics whenever inspired. He was so proud when he got a chance to record a rap in the studio that KingCee's music to him was on the way "Too Tha Stars". Christopher was preceded in death by his father, Christopher Gene Washington. He leaves to cherish and celebrate his memories, his mother Luciana Laury of Memphis, TN. One brother, Jeremy Laury of Memphis, TN and one sister Jaila Laury of Memphis, TN. and a host of aunts, uncles, nieces, nephews, cousins and close friends

I can just imagine the smile on your face, as you walk around that beautiful place; greeting our loved ones as you walk along while singing heaven's most beautiful songs. This is so very hard but it will be okay. It isn't good-bye; it's we'll see you one day.


Serenity Funeral Home, Tel. (901)379-0861.


Previous Events
Visitation
Serenity Funeral Home
1638 Sycamore View Road
Memphis, TN 38134
Service
Serenity Funeral Home
1638 Sycamore View Road
Memphis, TN 38134