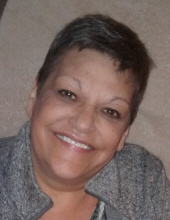 Obituary for Cindy Jane Staggs
Cynthia Jane (Byrd) Staggs of Bartlett, TN passed away at Methodist Germantown hospital on March 30, 2020. She was 64.

My mother spent her life giving LOVE. She loved her family, friends and animals dearly. She started out her life in Memphis, TN, born to Boyce and Essie Byrd in 1956. She grew up with three sisters and a brother. When she was young she had a horse named Deacon and she cherished the memories she made with him throughout her life.

She was a homemaker and a mother to me and a second mother to many of my friends and to countless dogs throughout her lifetime. She loved to cook big meals and spend time with loved ones. She was always the life of the party too, always having fun. Above all else she was granny! She loved that little man with all her soul and spoiled him to death with treats and toys.

She will be missed greatly by many and never forgotten. She leaves her husband Wade Staggs, daughter Jessica Mory, son-in-law John Mory and her beloved grandson Jack Mory. She also leaves two sisters Jean Kettler and Liz Rawdon and one brother Boyce Byrd Jr., as well as many nieces and nephews. She was preceded in death by her parents Boyce and Essie Byrd and by her sisters Delores Byrd and Barbara Wilson.

Her final wishes were for us to have a party instead of a funeral to celebrate her life. We will be planning this at a later date when social gatherings are acceptable again.

Serenity Funeral Home, Tel. (901)379-0861.