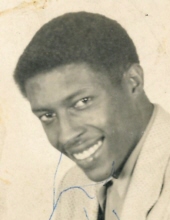 Obituary for Clarence Hayes, Jr.
Clarence Hayes, Jr., 87,died November 16, 2021.

Clarence Otis (Ray) Hayes Jr. was born August 9, 1934 to Mr. and Mrs. Clarence and Mary Ellen Hayes Sr.

Clarence confessed to Christ at an early age. He attended Douglas High School, and later attended Tougaloo College in Jackson, MS. He had various jobs which later led him to Firestone, and after 24 years he retired on August 30, 1996.

Clarence married his high school sweetheart, Sallie L. Hayes in 1954. Two of his children preceded in death: Anita C Wicks and Donna R. Hayes. He was also preceded in death by his sister, Joy Hayes.

He leaves behind: two children, Michael Hayes (Randy) and Sheron Moore (Doremus Wilson); two sisters, Lenora Coulter and Bettie Hayes; five grandchildren, Charles Moore, Dia Rogers, Jerald (Tiwan) White, Tamara Hayes and Tasha Hayes; 17 great grandchildren; and 11 great-great grandchildren.

Serenity Funeral Home, Tel. (901)379-0861.