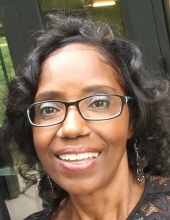 Obituary for Debra Chism-Dye
"Debra Chism Dye, 64, of Memphis, TN went home to be with her Lord and Savior on October 1, 2021. She passed at home surrounded by her loving family. She was born October 31, 1956, to the late Lois & Sidney Chism, Jr. of Memphis, TN.
The life of service she lived was the epitome of 1 Peter 4:10, "Each one should use whatever gift he has received to serve others, faithfully administering God's grace in its various forms." She was a person that was fiercely committed to living in her purpose of service to her family, her colleagues, her students, and the various lives she came across.
Debra was one of sixteen children by her late parents. Among the many lessons, she grew up learning strong work and leadership skills from her family. Her life's work of service was built on the foundation of inclusion, and perseverance until accomplishing her goals. At the age of 16, she graduated from Melrose High School of Memphis, TN in 1973. She later received her Bachelor of Science in Education from the University of Memphis. Educating the community that she grew up in, and the city that she loved, was her avenue of utilizing her gifts.
Her life of service lead to an overflowing number of accomplishments. First with her inseparable husband, whom she shared a life of fervent love, joy, and success that serves as an example for many generations to come. With her children and grandchildren, whom she gave all her wisdom and energy into raising a legacy of intelligence, courageousness, and strength. She also enjoyed planning gatherings with her extended family.
Professionally, she effectively influenced generations of students' lives through physical education and sports. Winning became a norm for her. She coached numerous playoff appearing teams. She led City Championship teams in boys & girls track, volleyball, and football, as well as a County Championship in Volleyball. She also was the 2011 Memphis City Schools - Golden Apple Award winning educator. In October of 2012, she was featured in the Health + Fitness Magazine for her successful educational and coaching techniques. The legacy she left with her students and athletes was a tradition of winning. It continues to live on locally and nationwide through the success of college athletes, NFL players, and leaders whose lives she made a difference in.
She was preceded in death by her parents, Lois & Sidney Chism Jr.; two brothers, Scnear "Sonny" Chism and Frank Alexander "Mickey" Chism; and a sister, Marzette.
Debra was a devoted wife, mother, grandmother, and sister, and is survived by her loving husband of 27 years, Cornell; four children, DeAndre Carpenter and Christian Carpenter (Tiffanie); Cornell Dye Jr (Mia), Reginald Dye (Deloris); three grandchildren, Yazmine Carpenter, Hailee Perkins, Christian Carpenter Jr.; eight brothers, McArthur Chism, Sidney Chism, Paul Chism (Kayla), Mack Chism (Janice), Maurice Chism (Patricia), Jackie Chism (Lisa), John Chism (Lisa), and Terry Chism (Kasek), and five sisters, Juanita Richardson (Walter), Carolyn Hardy (Marino), Loris Hopkins, Doris Hardiman, and Kathy Guy (Darrell); and a host of other relatives and friends."

Serenity Funeral Home, Tel. (901)379-0861.
Read More
Previous Events
Graveside
West Tennessee State Veterans Cemetery
4000 Forest Hill Irene Road
Memphis, TN 38125
Cemetery Details
Location
West Tennessee State Veterans Cemetery
4000 Forest Hill Irene Road
Memphis, TN 38125