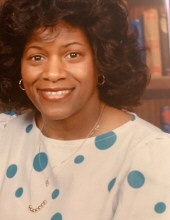 Obituary for Deloris Walker
Deloris Vivian Adair Walker, 70, on Saturday afternoon, February 15, 2020 departed these mundane shores for eternal bliss with Jesus Christ. She is the first daughter born to the late Eddie and Estella Adair of Memphis. They were delighted with her birth on August 20, 1949.

She was educated in Memphis City Schools. In 1967, she graduated from Manassas High School. She was an active member of the alumni until her health declined. In 1971, she received her Bachelor of Arts degree from what was then Memphis State University.
Majoring in sociology, she worked with devotion in several venues to help people. For twenty-eight years she was employed by Hooks-Dimmick Child Care. Her strong work ethic led her to other jobs following her retirement from child care. From serving children she went to senior citizens at Meritan and later the Aging Commission. In between, she worked for Early Childhood intervention.

When she finally retired from salaried employment in 2015, she became an avid booster of volunteering. She thought it was shameful for people to earn a good living from a career and then fail to give back to others. As a result, she was a volunteer for MIFA meals on wheels, and SHIP, where she was recognized as volunteer of the year in 2019.

While a child, she accepted Christ as her Savior at Mount Pleasant Baptist Church on Seventh Street in North Memphis. She was baptized by the late Rev. T.M. Henderson.

In the early seventies she joined Castalia Baptist Church under the pastorate of the late Rev. Calvin Mims. On May 12, 1973 he performed the marriage ceremony that united her and Rev. Randolph Meade Walker.

Although she detested the traditional preferential treatment accorded to and expected by first ladies, she followed her husband in his three pastorates-Pilgrim Rest Baptist Church-Henning, TN, New Philadelphia Baptist Church-Memphis, and Castalia Baptist Church.

At the latter, she was a Sunday school teacher, Vacation Bible School worker, a cook and server in the Missionaries of Charity Homeless Shelter feeding program, the Magnolia Elementary School Mentoring Program, and the first editor of the church newsletter, "The Clarion."

Quietly, she was a philanthropist. She gave to numerous projects and people within and outside of the church. She was the epitome of Christian charity, love, and virtue.

Her blessed memory is cherished by her loving husband of almost forty-seven years, Rev. Dr. Randolph Meade Walker; two children, Rev. Jennifer Young (David) and John Walker; a beloved ex­ daughter-in-law, Sherwonda Henderson Walker; two granddaughters, MacKenzie Walker and Madison Young; seven siblings, Eddie Adair, Jr.(Maria) of New York City, David Adair of Connecticut, Alease Allen (Willie), Carmen Anita Thomas, Loretta Adair, Stella Theresa Littlejohn, and Anton.io Adair (Victoria) all of Memphis; one aunt-in-law, Cynithia Stuart of Detroit, Michigan; two sisters-in-law, Eloise Toulson of Reedville, Virginia and Elsie Hayes Horton of Heathsville, Virginia; three brothers-in-law, Winfro Walker of Baltimore, Maryland, Alonza Walker, and Milton Walker both of Heathsville, Virginia.

There will be a social remembrance at 7 p.m., Friday, 21st and a theological remembrance on Saturday, February 22nd at 11 a.m. Both services will be at Castalia Baptist Church, 2180 Airways Blvd. Interment will be 11 a.m., Wednesday, February 26th in First Baptist Church's cemetery in Heathsville, Virginia. In lieu of flowers, contributions can be made to Castalia's Building Fund or a charity of the donor's choice.

Serenity Funeral Home and Cremation Society, Tel. (901)377-3543.


Previous Events
Visitation
Castalia Missionary Baptist Church
2180 Airways Bvd.
Memphis, TN 38114
Memorial
Castalia Missionary Baptist Church
2180 Airways Bvd.
Memphis, TN 38114