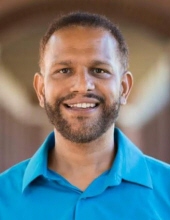 Obituary for Gary Giordano
Gary Giordano, 49, died May 8, 2019.

Gary Columbus Giordano was born in North Babylon, New York on August 3, 1969. He was born to Anthony and Freddie Giordano at Good Samaritan Hospital in West Islip, New York.
Gary began his education at Taukomas Elementary School in Wheatly Heights, New York. The Giordano Family moved to Memphis, Tennessee in 1983. He graduated from Wooddale High School and Sheffield Vocational Technical School in 1987. After graduating, he joined his father in the family machining business.
Gary met Janet Williams in 1987 and they were united in marriage in 1990. To this union, five children were born: Anthony, Khaaliq, Khadar, Raushan, and Faatima. Gary exceled as a machinist and accepted the role of Owner and Operations Manager of the family business. In 2010, his passion for machining led him to accept a position as Lead Instructor of the Machining Program at Tennessee College of Applied Technology in Covington. In 2015, he continued his love for teaching and became the Lead Faculty for Machining Technology at Arkansas State University (ASU) at Midsouth. He then became the Program Coordinator at Southwest Community College in Memphis in 2018 where he worked until his time of passing. He was also pursuing a Bachelor's Degree in Engineering at Southern Illinois University. Gary and Janet's union ended in 2016.
Gary married Kayla Fisher on November 1, 2018. Their union was joined by Kayla's children, Skyler and LillyAnn, who Gary loved as if they were his own. And while he fiercely battled his health condition, he never once put himself before his family, friends, students, and colleagues. He was dedicated to ensuring that every person that he came into contact with, he made a positive impact on their lives. He will be deeply missed by all those he touched.
Gary leaves behind to honor his memory and legacy of love, his wife Kayla, his children Anthony (Sharece), Khaaliq, Khadar (Jamiscia), Raushan, Faatima, Skyler, and LillyAnn. His grandchildren: Kingston, Khalil, Kendric, Kevyn, and his granddaughter, A'Myah Noelle, who is due in July. His mother, Freddie Muhammad, sisters Sharon White and Constance Martinez (Alfred), brothers, Robert Gooden (Barbara) and David Giordano, nephews and nieces, Lenny Jr., Nastasya, Naa'fiah, Najee, Autumn, Raya, Naasirah, Quentin, and Naaem. His beloved Aunt Carrie and cousin Derek Fleming and a host of other cousins and family members, friends, and associates who will cherish his memory eternally.
Gary was a 3rd degree black-belt in traditional Shotokan Karate. He enjoyed shooting pool, kayaking, canoeing and country living on his land which included dog training, raising and caring for livestock, fishing, and range shooting.
Gary was a caring husband, father, and grandfather. He enjoyed mentoring his students and helping them to expand their technical and creative skills, to explore newfound opportunities, and to achieve their personal and professional goals.
Honorable mentions are extended to: Robert Earl Gooden, Eddie Lee Gooden, Palm (Fuzzy) Gooden, The Dixon Family, Taurus Bailey, Steve Craft, Jeff Golden, Jeff Mann, Barry Sneed, Cedric Williams and Lori Counts.

Serenity Funeral Home, tel. (901) 379-0861.


Previous Events
Visitation
Serenity Funeral Home
1638 Sycamore View Road
Memphis, TN 38134
Service
Serenity Funeral Home
1638 Sycamore View Road
Memphis, TN 38134