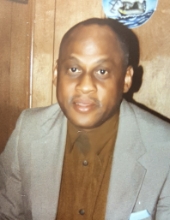 Obituary for George Washington Sparks
Celebrating The Life Of George Washington Sparks
May 12,1945 - March 2, 2023
George Washington Sparks was born in Haywood County, Tn.
in the town of Keeling on May 12, 1945 to Sanders Sparks Sr. and Esther Cannon Sparks. He was one of thirteen.
After he graduated from Gailor High School in Tipton County, Tn. George started his life journey with service to our Country in the U. S. Air Force. Later he worked many jobs serving others; retail service manager, then a care taker at St. Jude of Memphis, Tn. which was known to be his last service career before retirement.
George was a devoted son, sibling, husband, uncle and great uncle to a host of nieces and nephews, also a great friend to those who knew him best. George passed away peacefully on March 2, 2023 in the care of Baptist Hospice in Memphis, Tn.
Rest in peace our beloved uncle, you have served God's purpose for your life, with a quiet spirit. You bustled through life silently, calmly and discreetly. We will miss everything about you. "YOU DID IT YOUR WAY"
UNCLE
A PERSON WHO CAN PROTECT LIKE A FATHER PLAY LIKE A BROTHER AND GIVE ADVICE LIKE A FRIEND.
Services Entrusted To: Serenity Funeral Home 1638 Sycamore View Rd
Memphis, Tn. 38134
Read More
Cemetery Details
Location
West Tennessee State Veterans Cemetery
4000 Forest Hill Irene Road
Memphis, TN 38125