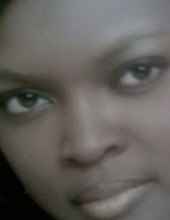 Obituary for Gwendolyn Denise Dyer
Gwendolyn "Gwen" Denise Dyer, age 47, entered into eternal rest on June 7, 2016. Born in Ripley, MS her family moved to Memphis, TN when she was a child and she remained in the city throughout her life. Gwen was baptized at a young age and joined Magnolia First Baptist Church under the leadership of Rev. W. H. Bass. Later, she became a member of Divine Faith Baptist Church and remained until her passing. Gwen graduated from Hamilton High School in 1988 and during her time there developed special friendships that continued throughout her life.

Those who knew Gwen during her teenage and young adult years know that she was a "diva" in her own right long before the term became vogue. She enjoyed working with makeup and hair and took cosmetology courses in high school. In fact, one of her first jobs was at the Ike's make-up counter which seemed to be a natural fit for Gwen's skills and eye for beauty. Her true first job, though, was being hair stylist to family members. You could often find her creating elaborately coiffed hairstyles for her aunts, mother, sister, and cousins even while she was in high school. Although she seemed to have natural abilities when it came to fashion, make-up and hair, Gwen focused her aspirations toward another goal and decided to attended phlebotomy school. After completing the program, she worked in several technical and laboratory settings, developing long-term friendships along the way.

Those who had the pleasure of knowing Gwen as an adult know that she loved the singer Gerald Levert and she often teasingly referred to herself as 'Mrs. Levert'. She loved music, shopping, and being with her family. She also had a passion for children and became a foster parent for the State of Tennessee. She was an exemplary foster parent and received recognition as such from Camelot Care Center. She had the pleasure of helping and fostering several children in her home.
Gwen is survived by her parents, Rubie and William Nesbit; three children, Jahnesha Dyer, Brittney Dyer, and Jaylon Dyer; her sister, Kimberly Henson (Ronnie); four nieces and nephews, Ashton Henson, Ronnie Henson, Jr., Khayla Henson, and Kemron Henson; three aunts, Gladis D. Pope, Ruther Dyer, Nellie Nesbit, and one aunt who proceeded her in death, Laura Ann Thomas (Elmo); three uncles, James Dyer, Marvel Nesbit, and DeWayne Nesbit; seven cousins, Patrick Hullom, Patricia McGee (Lee), Darrell Cash (Julia), Andre Dyer (Cheryl), NaKeshi Dyer (Timothy), DeVita Dyer, and James Dyer, Jr; and several other relatives and close family friends who loved her very much. Gwen had numerous friends but she held especially endearing and long-term friendships with Tara Johnson, Darryl Richmond, Clarence Winfrey, Cedric Patterson, Monica Hendree, Tamara Carroll, Moriesha Doby, Kyra "Sha" Henderson, and Shirley Cannon.

Memorial Service at 11:00 a.m. on Friday, June 10, 2016 at Serenity Funeral Home, 1638i Sycamore View Road.

Scattering ceremony at Serenity Columbarium and Memorial Garden, 1662 Sycamore View Road.

Final Resting place: Serenity Columbarium and Memorial Garden (Scattering Garden).

Serenity Funeral Home, 1638i Sycamore View Road, Tel. (901) 379-0861.
Read More
Previous Events
Service
Serenity Funeral Home
1638 Sycamore View Road
Memphis, TN 38134
Cemetery Details
Location
Serenity Columbarium and Memorial Garden
1662 Sycamore View Rd.
Memphis , TN 38134