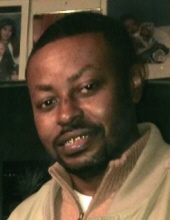 Obituary for Howard D. McGee
Howard D. McGee, 43, died February 11, 2017.

Howard DeWayne McGee was born on March 31, 1973 in Chicago Heights, Illinois to Mae Ola McGee and the late, Jessie McGee.

Howard was a quiet, respectful, and reserved child. He was thought as "our miracle baby", having survived a near fatal accident shortly before he was born. He was fondly called, "Wayne". He graduated from Westwood High School, class of 1991. Wayne enjoyed playing sports, hanging with his friends, keeping up with the latest fashion, "ballin", and protecting his younger sisters. He valued family and friends. His nieces and nephews considered him their favorite uncle. One of his favorite past-times was sharing Facebook posts and family group chats late at night with his mom.

At an early age, Howard accepted Christ as his personal Savior at Eureka True Vine Missionary Baptist Church under the leadership of the late Rev. Anthony Nollie. Later in life, he became a member of White Stone Missionary Baptist Church under the leadership of Pastor Walker D. Wright.

In April 2011, Wayne became gravely ill and it was discovered that his mitral valve was infected causing him to have several stokes. By the grace of God and his medical team, he was miraculously healed. With faith, prayer, rehabilitation, and perseverance, he overcame many obstacles and limitations and continued to live life to the fullest. Because of his belief "that he was good", it was unknown that his mitral valve was failing him. On February 11, 2017, his heart stopped and God called him home. Wayne was preceded in death by his father, Jessie McGee and his brother, Sammie McGee Harris.

We thank God for the years of love that we shared and the joy Wayne brought to our lives. His memories will be cherished and remembered by his loving and doting mother, Mae McGee; four sisters, Linda McGee- LaBarre, Marilyn Glass (Richard), Jessica Jones, and Crystal McGee; eight nieces and five nephews, Kristalyn, Courtney, Renica, Rodriquez, Rachel, Mariya, Maria, Tyler, Daneshia, Joseph, , Christina, Christiana, and Christian; three great nieces and two nephews, Aliyah, Sir Mario, McKenzie Desmond, and Makiya; one aunt, Minnie Whitfield of Grand Rapids, MI; two uncles, Mack Williams and Billy Williams; many beloved cousins; his childhood crew, a special brother-in law, Wray LaBarre; a dear friend, Amela "Poolah" Harris; and a host of family and friends.
Read More
Previous Events
Visitation
Serenity Funeral Home
1638 Sycamore View Road
Memphis, TN 38134
Visitation
White Stone Baptist Church
187 S. Parkway E.
Memphis, TN 38106
Service
White Stone Baptist Church
187 S. Parkway E.
Memphis, TN 38106
Cemetery Details
Location
New Park Cemetery
4536 Horn Lake Rd.
Memphis, TN 38109