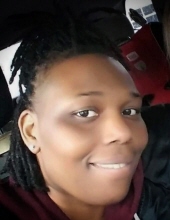 Obituary for Jacy Olivia Moore
Jacy Olivia Moore, age 29, died August 10, 2021.

Jacy Olivia Jennings Moore, age 29, passed from this life at her home in Bartlett, Tennessee, on August 10, 2021. Jacy was born on April 2, 1992, in Philadelphia, Pennsylvania, and adopted by her mother, Marilee Moore, when she was five days old. Her early years were spent living with her mother, her older sister Katelyn, and her grandparents, E. J. and Metta Moore, on their farm in Paragould, Arkansas. The family moved to the Memphis area in 1999 and settled in Bartlett in 2008. Jacy also lived in Palm Springs, California, in 2010-2012.

Jacy attended school at Crowley's Ridge Academy in Paragould, and Riverside Elementary, Shadowlawn Middle School, and Bolton High School in Shelby County. She worked at Pizza Hut, Williams Sonoma, The Studios of Palm Springs, and Brother USA.

Jacy's proudest accomplishment in life was being the single mother of her six-year old son, David Joshua Moore, named for two of her favorite men in the Bible. Preceding her in death were her grandparents, most recently of Searcy, Arkansas, who were first to babysit and spoil her. Jacy is survived by her son Josh, her mother Marilee, her sister Katelyn, her aunts Hester and Jessica, and her cousins Aiden and Caily, all of Searcy, plus a host of extended family in Arkansas and Texas. Also left to remember her are numerous friends, including those she shared her beliefs with and led to a life with Christ.

Jacy was a sweet, generous, caring, kind, loving, and forgiving mother, daughter, sister, niece, cousin and friend. She loved to help people and shared her home with many who needed shelter, starting with friends in high school, and at least 30 others since then. She was currently sharing her home with a young mother and her two daughters.

Drawing, reading her Bible, visiting with friends, and especially spending time with Josh were some of Jacy's favorite things. Snow White was her favorite childhood movie and October Sky was very influential in her teenage years. She had an amazing memory and could quote the lines from most movies she enjoyed.

When she was nine, Jacy accomplished her lifelong goal of breaking her arm while doing bike stunts, but she soon discovered that having a cast wasn't all that it was cracked up to be. She loved all animals and was a great mom to Patches, Coco, Maddie, Princess, Rocky, and Baby. Salado Creek and Camp Tahkodah were her favorite places to visit and she was able to spend time there swimming, which was one of her favorite activities. Jacy was extremely intelligent and had a voracious appetite for knowledge. She loved to watch Discovery Channel shows and enjoyed sharing that knowledge with others.
Mental illness was her constant companion since she was 12 years old. Michael's House in Palm Springs brought a brief respite from her daily struggles. AA programs helped provide structure to her life, and other attendees benefited from her testimonies and encouragement.


Serenity Funeral Home and Cremation Society, Tel. (901) 377-3543.
Read More