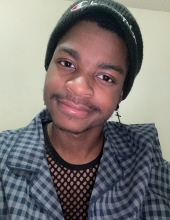 Obituary for Jeremy Natheal Key
Private Services by the Family.

On Monday, April 30, 2001, a brilliant, shining star was born, Mr. Jeremy Natheal Key.
He departed this life on Friday, September 09. 2022.
Proud Parents Geno and Rebecca Key Taylor taught and encouraged him that he could accomplish anything and everything that he wanted to do.
Jeremy was preceded in death by his father, Elder Geno Taylor and his grandmother, Willie Ruth Key.
Jeremy leaves to celebrate his life and cherish his memories, his loving mother Rebecca Key Taylor, 1 sister, Joslin Miller (Jamel), 3 brothers, Julius Iglus, Joshua Iglus, and DeShun York. 1 niece, Aubrey Miller, 2 nephews, Austin Miller and Aaron Miller, and his grandfather, Tracy Key. And God Sister, Najila Parham.
He also leaves a host of aunts, uncles, cousins, other relatives and friends whom lives he has touched.
Serenity Funeral Home, Tel. (901)379-0861.
Read More