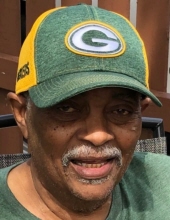 Obituary for Jerry Lipscomb
Jerry Adilla Lipscomb was born on September 14th, 1953 to the late Willie Mae
Brown & Robert Lipscomb in Crystal Springs, MS. He attended Booker T. Washington
High School. During the years of 1972-1976, Jerry decided to attend Lemoyne
Owen-College.
In 1974, he was initiated into the Beta Mu chapter of Kappa Alpha Psi Fraternity,
Inc.whereas he was the 9th individual of that line. At a young age, he later moved to
Milwaukee, WI and worked for Children Hospital for thirty-three years. While he labored
in Milwaukee, he met the love of his life, Francine Veal, and they were united in holy
matrimony for thirty-five years. From this union, they were blessed with four children:
Jerry Jr. James, Kaneshe, & George. On July 5th, 2021, Jerry was called to be with the
Lord for the rest of eternity. He will be surely missed by all.
He is survived by his brother, Robert (Junior) Lipscomb , his sister, Diane (LuLu)
Jones, and a plethora of grandchildren, nieces and nephews. He is preceded in death
by his parents, Willie Mae Brown & Robert Lipscomb. His brothers Raymond Lipscomb,
Sunny Crawford, Marion Crawford, & Vincent Lipscomb. As well as his sisters: Carolann
Hamilton and Bessie Seward.
Serenity Funeral Home, Tel. (901) 379-0861.
Read More