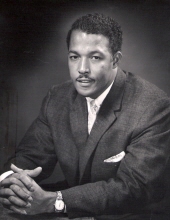 Obituary for John Ashton Anthony
John Ashton Anthony, 87, died January 27, 2017.

Husband, father, inventor, entrepreneur and social justice champion John Ashton Anthony was born in Charlestown, Nevis on April 19, 1929. He said his will to survive began on that day, when the local doctor gave his mother a shoe box saying he was too sickly to survive. Mr. Anthony's grandmother nursed him to health, wrapping his small body in towels soaked in herbs. Thus, began his adventure.

Mr. Anthony was the firstborn child of Kittitian civil rights pioneer Edgar Challenger, and Aurora Kelly-Anthony. At age 18, Mr. Anthony became an entrepreneur, designing and crafting wooden ironing boards for local families, his first of many innovations.

Mr. Anthony gained his education at the French school Lycée Carnot in Guadeloupe where he eventually became an electrical engineer.

His ambitions led him out of the Caribbean as part of a team that introduced electricity to Europe, from England to Finland. Among his accomplishments was the installation of electricity through "The Channel Tunnel" between France and England. His pursuits led him to America, his first stop was in Memphis, Tennessee and he moved on to Chicago where he met the love of his life, the former Doris Marie Spencer, while working as a computer engineer for Johnson Publishing Company.

Mr. Anthony's pursuits evolved to the commercial kitchen equipment industry, and he was soon recruited to New York City by the top company in his field. Shortly thereafter, he launched his own business to become the first person of Aftrican descent owner and operator of a premiere commercial kitchen equipment service company in the New York Tri-State area where he boldly cornered the luxury hotel industry.

During the company's 54-year reign, Mr. Anthony managed to invent and patent an energy conservation device and found a commemorative plate collection company highlighting unsung civil rights heroes, including the likes of Frederick Douglass.

His passion for social justice was his life's work and he continually spoke out about injustice and inequality through organizations and demonstrations. Mr. Anthony supported various causes throughout his life and his daily acts of compassion and generosity were witnessed by all who knew him.

He is survived by his wife of 55 years, Professor Emeritus, Doris Anthony, and their children Lisa Anthony-Curvin; Aurora Anthony-Gross; Kontji Anthony-Hendricks; and Johnita Anthony-Gefell.

Additionally, cherishing his memory are his three eldest children, Zachary Challenger; Jackie Challenger; and Jeanette Challenger-Griffiths.
Read More
Previous Events
Service
Serenity Funeral Home
1638 Sycamore View Road
Memphis, TN 38134