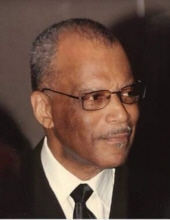 Obituary for Julian Williams
Julian Clectice Williams was born on March 30, 1939 in Mason, Tennessee to the proud parents of Luedna Maclin-Williams and Hosea Williams. On Thursday, June 3, 2021 the angel of peace called him to his place of eternal rest and he died at 5:27 p.m. of Alzheimer's disease at the AHC Harbor View Nursing and Rehab Center. He was 82.
Julian embraced many roles during his eight decades on this earth. Those roles included husband, father, grandfather, great grandfather, brother, uncle, cousin, friend, deacon, barber, entrepreneur, Mason and mentor. All roles for Julian led to success because Julian was a child of God. And his life was a reflection of God's grace and goodness and the grace, goodness and care he showed others in return.
As a native of Mason, a small rural town in Tennessee, Julian had big dreams. Those dreams yielded a thriving barbering business, community involvement, rental and commercial property, and a life-long commitment to his family and church family.
He professed a hope in Christ as a teenager and joined Macedonia Missionary Baptist Church in 1958, under the leadership of Pastor L. M. Morganfield, later Pastor Mose Pleasure, Jr. and currently Pastor Melvin Lee. Julian remained a member of the church until he passed even though he couldn't attend regularly in later years because of failing health. He was Chairman of the Deacon Board and Chairman Emeritus and a member of the March Month Fellowship Group.
After graduating in 1958 from Fayette-Ware High School, where he played basketball, Julian moved to Memphis. As a self-taught rookie in the barbering world, he started honing his skills by taking a hand-full of weeds and shaving them into shape on a regular basis. Eventually he enrolled in Barber School. After graduation he began working at the Klondike Barber Shop in the Klondike Community. He eventually obtained his Master Barber's license and opened the Hollywood Barber Shop.
While working at the Klondike Barber Shop, Julian met his wife, Eunice Allen, the love of his life, when she strolled into the shop for her hair appointment. The beauty shop was housed in the back of the barber shop. The couple dated and eventually married on September 8, 1963 and to the union, two daughters were born.
Once Julian's barbering career took off, so did his community involvement, mentoring and the ability to teach and motivate anyone who would listen to his declarations of God's goodness, giving back and encouraging others to follow their paths and reach their goals.
Julian's Hollywood Barber Shop served the community as well. He bought uniforms for those who participated in sports at the Hollywood Community Center. He also made sizable donations to charitable organizations. Known as "Mr. Hollywood" to most of his long-time loyal customers, his shop served as a beacon of light in the community because of the "royal" treatment the customers felt they received.
Not only did Julian love barbering, his entrepreneurial spirit mushroomed into other businesses. He owned a Laundromat, dry cleaners, wig shop, donut shop and a grocery store. As if that wasn't enough, Julian sold Noni Juice and Shea Butter on the side.
Julian was also a 32nd Degree Mason and served as member of the reserves for the Shelby County Sheriff's Department. In later years, he was offered a position teaching barbering for the Barber School in the Klondike Community, but he declined. But he opened the Hollywood School of Barbering for interns.
In addition, Julian's charitable approach spilled over to his tenants who lived in his rental and those who own businesses in his commercial properties. He believed that a person's word was his bond. So instead of a lease for the tenants and business owners, he usually accepted a handshake and their word that the rent would be paid and, hopefully, paid on time.
Although he had a fierce work ethic for what he loved, Julian loved sports as well, having been a basketball player in high school. He loved the Los Angeles Lakers Basketball team and the San Francisco 49ers Football Team.
Family outings and spoiling his grandchildren and great grandchildren were also favorite pastimes. He also loved to grill and barbecue outdoors and once entered the Memphis in May Barbecue Cooking Contest.
On February 4, 2017, at the corner of Bryan Street and Chelsea Avenue, Bryan Street was renamed Julian C. Williams Street in his honor for his tireless efforts in the community and the business he brought to the community. Julian retired on January 15, 2011 after working as a barber 42 years.
Julian's death signified the last of the Williams siblings. Julian's four sisters, Mrs. Elizabeth Beard, Mrs. Dimple Lucious, Mrs. Vivian Jackson and Mrs. Viller Davis, all preceded him in death. And, his eight brothers, Booker T. Williams, Robert Williams, James L. Williams, John W. Williams, James A. Williams, Kemp Williams, Issac Williams and Willie Williams, also all preceded him death.
He leaves to mourn his passing, his wife, Mrs. Eunice Yvonne Allen Williams; two daughters, Mrs. Chauntay Williams Jones and Ms. Tiffany Williams; three grandchildren, Kelby D. Jones, D'Juan R. Jones, Aaleyah Y. Jones; three great grandchildren, Kelby D. Jones, Jr., Kellen D. Jones, Kayden E. Jones, all of Memphis; three sisters-in-law, Mrs. Adeline Williams, Mrs. Love Williams, both of Memphis, and Mrs. Dorothy Williams of St. Louis, Missouri; Ms. Juanita Faye Logan, a close family friend who was like a daughter, and a host of nieces, nephews, cousins and other relatives and friends.
The family requests that any memorials be sent to the Alzheimer's Association.

Serenity Funeral Home, Tel. (901)379-0861.
Read More
Previous Events
Memorial
Heaven Sent Ministries
923 W. Shelby Dr.
Memphis, TN 38109