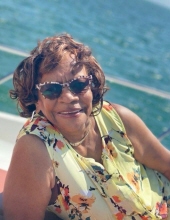 Obituary for LaFrancine Gibson
LaFrancine Stewart Gibson passed away peacefully to join her Lord on Thursday, April 28, 2022 at the age of 85 years. She began her life on September 17, 1936 in Memphis, Tennessee as the daughter of Emma and George Stewart. She attended Manassas High School where she was a majorette and tap dancer. She graduated high school from Booker T. Washington.
She had her eldest son early in life and later had five additional, beautiful children with James W. Gibson, Sr., two sons and three daughters. She worked at Mr. Lee's Shoe Store and Goldsmith's Department Store where she developed her love of fine shoes. She then worked for the Tennessee Department of Human Services for 30 years where she built many lifelong friendships in the service of others. She was an active member of the Tennessee State Employee Association (TSEA) in advocating for a rewarding workplace for state employees.
She began an early relationship with God with her baptism at Lake Grove Baptist Church. As an adult, she joined Mt. Vernon Baptist Church - Westwood and was a devout and faithful member for most of her life while serving in the choir and Missionary Society. Later in life she became a member of First Baptist Church – Broad and served on the Mother Board.
LaFrancine was confident, giving, independent, loving, and determined. She was a devoted mother, grandmother, spiritual leader, warrior and faithful servant who embraced every opportunity to serve as a volunteer in her church and community.
She graced her six children with unconditional love. Her unwavering commitment to family led her to support each of them in different ways – from promoting a budding entrepreneur's business out of her garage to providing open arms during the transitions that life offers unexpectedly. Among her many valuable lessons, she taught her children and grandchildren that no matter how difficult it may be, you should always do what is right and treat others the way you want to be treated. She shared the importance of the art of forgiveness and how nurturing it is for the soul.
In every family of faith there is a clear leader, and she was undoubtedly the spiritual leader of the Gibson Family. Her unwavering faith in a loving God and strength of character saw her through many difficult times and hardships, including a battle with cancer over the last ten years. Her faith encouraged many family members to become active in their churches and serve as volunteers in their local communities.
She is an inspiration to all who knew her and spent any time in her presence. There are many of us, especially women, who are strong, confident individuals because LaFrancine Gibson shared her wisdom, her love of life, her deep faith and her joy of living, each and every day.
She leaves behind her sister, Georgia Daniels of Moscow, TN, her beloved children – Darryle Stewart of Matamoras, PA, Zerah Gibson (Jackie) of McDonough, GA, Gale Davis, Brenda Gibson, J.W. Gibson (Kathy) and Sherail Owens Boswell all of Memphis, her grandchildren Carlton Owens, Jr. of Kansas City, KS, Timothy Gibson of Las Vegas, NV, LeAndre Gibson, Savannah Gibson and Alicia Gibson, all of Memphis, and five great-grandchildren LeAndre Gibson, Jr. of Fairburn, GA, Taj Gibson of McDonough, GA and London Terry, Knighton Selassie and Micah Gibson, all of Memphis.
Arrangements are entrusted to Serenity Funeral Homes www.serenityfuneralhomememphis.com. Visitation will be held at Serenity located at 1638 Sycamore View Rd., Memphis on Saturday, May 7 from 3:00 to 5:00 pm, with a Celebration of Life at First Baptist Church – Broad on Monday, May 9 starting at 10:30 am. LaFrancine will be buried immediately following the service at Memorial Park Southwoods.

Serenity Funeral Home, Tel. (901) 379-0861.
Read More
Previous Events
Visitation
Serenity Funeral Home
1638 Sycamore View Road
Memphis, TN 38134
Service
First Baptist Broad
2835 Broad Ave.
Memphis, TN 38112
Cemetery Details
Location
Memorial Park Southwoods
5484 Hacks Cross Road
Memphis, TN 38125