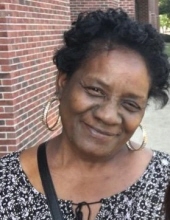 Obituary for Mae Katherine Coins
Mae Katherine Coins, died December 16, 2021.

Mae Katherine Coins, affectionately called "Mae-Katherine," was born on October 25, 1954, to the late Jonah Peoples and Letha Mae Coins in Senath, Missouri. After her mom's untimely death, she was raised by Ruby Peoples, whom she referred to as "Moma." She was one of five children and was preceded in death by her parents, Ruby Peoples, and four siblings, Betty J. Ward, Alice M. Ward, Terry J. Thomas, And Michael J. Thomas.

Mae Katherine accepted Christ at an early age and attended church services regularly at Tower of Power Ministries under the leadership of Evangelist Pearlie Jenkins where services were held at Barry Towers.

She received her education from the Memphis County Public School system, and upon completion, she immediately went into the workforce.

She enjoyed working where there were opportunities to serve and help others. She was an Ambassador for the Memphis Police Department, North Main Station. She was a caregiver and spent most of her time working in the private sector. As the Hope Day Zone program coordinator, a program that helped seniors in the community: She was always called upon to write and read the Motivational word of the day.
At Barry Towers, where she lived, she was the floor captain and a member of the Resident Association. She always wanted to make sure the tenants were treated fairly and helped make Barry Towers a comfortable living environment for seniors, including herself.

She wass also an active member of the Bickford Community Center, and a proud dancer of The Jess Dancers.

Mae Katherine had a giving heart and was always willing to lend a helping hand to help others. She was a great housekeeper and enjoyed babysitting. Over the years, the family could always count on her to keep the kids. She had a particular skill for ironing clothes. When the word got around the neighborhood, she began her own small business of ironing clothes for people in the neighborhood.

Mae Katherine enjoyed traveling, but she was not too keen on traveling by plane with a fear of heights. However, she faced that challenge a few years ago when she boarded her first airline flight to Phoenix, Arizona, to spend time with family during the holiday season. She said that moment marked one of the most incredible experiences of her life. She was excited to travel with her family and enjoyed many holiday traditions traveling to St. Louis, Atlanta, and Phoenix.

She leaves to cherish her memories: nieces and nephews that she treated as her children, Lucinda Anderson, Mark Martin (Rhonda), Rodney Wright (Marsha), Sonia Howard (Keith), Travis Lester, Markeese Ward, Timothy Bobo, Martavius Ward, Lauren "Taquesha" Ward, Monterious "Deshon" Ward. Extended siblings, Ronald Austin, Sherrye Austin. Special Cousins, Phyllis Gregory (Anthony, Sr.), Donna "Dana" Bogan, her best friends, Darlene Williams, Rosie Meredith, and a host of loving cousins and friends.

Serenity Funeral Home, Tel. (901) 379-0861.


Previous Events
Memorial
Serenity Funeral Home and Cremation Society
1632 Sycamore View Road
Memphis, TN 38134