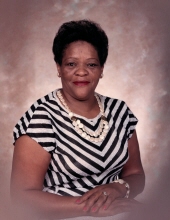 Obituary for Maebell Richardson
Maebell Richardson, 83 years of age, peacefully passed away Friday September 30, 2016,at her home in Memphis, TN. She is survived by her son Alexander Richardson and daughter, Dana Marie Richardson-Turner and was predeceased by her husband,Robert Richardson, and her children, Evonne Somerville, Veronica Jones, and Robert E. Richardson, Jr. Funeral Services will be held online at serenityfuneralhomememphis.com.

Maebell Richardson of Hampton, Virginia retired from the Army Depot in 1994 as a Civil Service employee. She was born to Sally and Jim Hobson on April 20, 1933. After meeting the love of her life, Robert Richardson, she settled in Memphis, TN and was a member of Zion Hill Baptist Church. In addition to her five children,Maebell also leaves behind eight grandchildren, nine great grandchildren and one great-great grandchild .

With grateful hearts, the family of the late Mrs. Maebell Richardson extends a cinder "Thank you" to everyone who expressed care and concern in so many ways during her illness and death. May God bless you and keep you.


Eulogy

It's always hard to lose a Loved one, it's good to know others are praying. Keep the happy memories and let the other fade.
We are grateful to have had Maebell Richardson in our life.
God gave us our memories.
Recall it as often as you wish, a happy memory never wears out.

May your unfailing love be my comfort, according to your promise to your servant – Psalm 119:76
May God Bless you for sharing with us in this time of loss.
Pastor David M. Copper



Scripture

And when ye stand praying, forgive, if ye have ought against any: that your Father also which is in heaven may forgive you your trespasses.
But if ye do not forgive, neither will your Father which is in heaven forgive your trespasses.

-Mark 11;25-26



Please click on: "Share a Memory" or "Tribute Wall" and leave a comment, or your name in the the virtual register book.
Read More