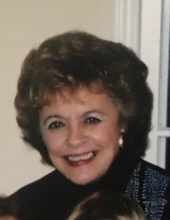 Obituary for Marilyn Maley
Marilyn Maley, age 90, died January 16, 2021.

There is a party going on in Heaven! Marilyn was born in Memphis to George and Lois McNamara, of whom she is preceded in death along with her two sisters Beverly Marcus and Ann Court. She was raised by her Angels; Nanny, Tilly and Honey in Memphis and attended St. Agnes Academy.

Music was her medicine and she was born wearing dancing shoes! Graced by beauty winning the first title of: "Memphis City Beautiful" in 1947. She loved cheering for Catholic High and attending Chicks Baseball games, meeting the love of her life, Bill Maley!

Marilyn had an enormous work ethic which was so admired by all of her children. She worked for the Federal Government most of her life in addition to selling real estate. There were times when she worked three jobs to support her children's education. Her work at St. Jude was most rewarding.

She is also preceded in death by her husband Bill Maley of more than 40 years and her two sons, Mickey Maley and Gary Allen. Marilyn is survived by four children and their families: Chris Allen, Marilyn Feathers (Jerry), Sheilah Allen, Maggie Pool (John) and Sandra Horn (Jim.); grandchildren Lindsay Simmons, Kelley Allen, Magie Smith, Stacy Smith, Erick Greer, Whit Allen, Will Allen, Ryan Maley, Melissa Maley, Jake Pool, Tyler Horn, Cara Massa, Meg Horn and Maley Horn. She was blessed with 9 great grandchildren; Carson, Myles and Anna Simmons, Alison, Thomas and Gabriel Watkins, Briana Allen, Maggie Lynn Averett and Henry Greer.

Marilyn was a devoted Mother and Grandmother. She enjoyed the Danny Thomas Memphis Classic/ Shower of Stars every year and loved going to the horseraces in Hot Springs and Del Mar, but her pride and joy was always DANCING!!! Her favorite stories included taking dancing lessons from Mary Lee Edwards and having the opportunity to dance on stage with the Rockettes in New York!

She was loved by all ages and will be truly missed.

A private family grave side prayer service we be held at 4pm on Sat. January 23, 2021.

The "Life of the Party!" will be celebrated next Saturday at 5pm at the home of Sandra and Jim Horn.

Serenity Funeral Home, Tel. (901)379-0861.