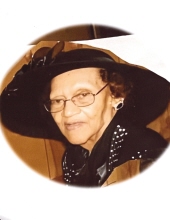 Obituary for Mary Tharp
In the tranquil temperament of the early morning dawning with a subdued smile on her face (oblivious to her surroundings) clandestinely humming the words of her favorite song "Precious Lord Take My Hand", the Lord, in all HIS splendor took her hand and gently guided HIS "Precious Rose" to her eternal home.

Mary Lurue (Ruth) Harris Tharp transitioned this life Tuesday, September 14, 2021. She was born April 1, 1925 to Edward and Sadie Eubanks Harris in Fayette County Tennessee.

She was married to Sterling Andrew Tharp, Sr. He lovingly dubbed her "Ruth" and preceded her in death after 70 years of marriage. God blessed this union with four children of which two: Sterling Andrew Tharp, Jr. and Opal Sue Lee Tharp Liester preceded her in death.

She declared her salvation and prioritized her life with The Lord Jesus Christ as "Commander-in-chief" at the age of thirteen uniting with Morning View M. B. Church in Eads TN. In 1942, after marrying the love of her life, she relocated to the Oakland community and joined Bell Grove M. B. church under the pastorate of Rev. A. J. Campbell where she remained a member until her demise. Because of her love for singing and a God-gifted voice, she joined the choir and worked diligently with the Pastor's Aid and Cemetery Rally committees. After many devoted years on the choir, she joined the Mothers' Board and was actively involved until her health begin to decline.

Her love for school was unrelenting and passionate. Her first school was Smith Elementary, then Canadaville, and back to Smith again. Realizing how vital education was/is, she became an energetic advocate of higher education teaching and encouraging her children, as well as, those in the community to acquire all the education available but most especially "Biblical" education. In her school, each morning there was devotion of which the "The Lord's Prayer" was always a prominent part. At that time, memorizing the 23rd Psalm was actually a part of the school's curriculum. She and another classmate were the only two to successfully learn the Psalm resulting in a grade of 100 for the assignment; something she has always been very proud of achieving.

She never worked in the public sector; however, she observed her mother earning extra income for the family by making quilts. As she watched and assisted in doing little things toward her mother's quilting business, she realized that she wanted to QUILT too. She became vigorously assertive in becoming successful in her own quilting venture. It became her passion, as well as, her hobby. She had patterns for a variety of designs. Those that she especially loved were: The Nine Patch, The Bow Tie, The Oklahoma Road, The Picture Frame, The Star, and The Monkey Wrench.

She genuinely loved quilting. As her eyesight began to fail, in awe, family and friends watched her continue to sew. She said it was just a matter of organization. Everything had its place. She would ask her granddaughter Jeannie and others to thread needles (ten at a time). She would put them in a pin cushion and position them in a designated spot on her sewing table beside the couch. The scissors had a particular spot on the table. With all her equipment in its proper place, she would then feel her way. She would enthusiastically say, "I can't see, but I can still feel." Today in her daughter's home (Mary with whom she resided at that time), her table beside the couch is just as she left it, dust and all.

She leaves to cherish her memory and carry on her legacy 2 daughters: Minister Mary Louise Tharp Sisk, Memphis TN and Eldress Sara (Alonzo) Woodruff, Nashville TN; 5 granddaughters: I.C.S. Jeannie Bynum, Memphis TN, Yolanda (Lazarus) Settle, Cordova TN, Portia (Thomas) Neely, Ladson SC, Tasha (Carlos) Anchondo, Chicago IL, Candus Cleaves, Oakland TN; 3 grandsons: Sterling E. Dennis Tharp, III, Chicago IL, Stephen (Kimmy) Liester, Memphis TN, Everett (Ashley) Liester, II, Memphis TN; daughter-in-law, Claudette Tharp, Nashville TN; sister-in-law, Moddie Tharp, Atlanta GA; son-in-law, Everett Liester, Cordova TN; 14 great grandchildren, 5 great-great grandchildren, as well as, a host of nieces, nephews, cousins, and devoted friends who will miss her dearly and always honor her memory and legacy.

Serenity Funeral Home, Tel. (901)379-0861.
Read More
Previous Events
Visitation
Bell Grove Cemetery
230 Bell Grove Road
Oakland, TN 38060
Service
Bell Grove Cemetery
230 Bell Grove Road
Oakland, TN 38060
Cemetery Details
Location
Bell Grove Cemetery
230 Bell Grove Road
Oakland, TN 38060