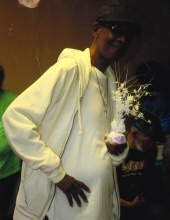 Obituary for Michael Merritt
Michael Merritt, age 63, died April 7, 2021

Michael A. Merritt started his earthly journey on May 14, 1955 in Memphis, TN, born to the union of Berie and Rudy Allen. Later his parents moved to Kansas City, Missouri, where he lived until he was eight years old.

In 1963 he came back to Memphis, TN to live with his grandfather and grandmother, Willie and Bernice Merritt.

He accepted Christ at an early age at St. Peter M.B. Church, under the leadership of the Rev. W. L. Morris, in Senatobia, MS, where he attended church.

He received his education at the Geeter High School Memphis, TN. He enlisted in the U.S. Marine Service; he was stationed in Wilmington N.C., where he met and married his formerly wife, Ms. Janet Barfield Merritt; to this union no children were born but he gained one step daughter, Shelane Barfield. He later moved back to Memphis, TN. He was employed by the Chickasaw Broom Maker, and he became a chef cook and was employed by Pete and Sam's Restaurant until he retired.

His father, Bernie; mother, Ruby; brother, Eric Allen and sister, Ophelia Allen Bank Clark preceded him in death. He departed this earthly life on April 7, 2021 at St. Francis Hospital Bartlett, TN.

He leaves to cherish his memories a devoted brother, Rodney Allen; grandmother, Bonnie D. Jones; two nieces, Mariah Noland of Nashville, TN, and Maurisa Banks of Kansas City, MO; one nephew, Timothy Banks Jr. of Kansas City, MO; two aunts, Sandra F. Marshall of Memphis, TN, and Deloise Cross, Chicago, IL; one uncle, Tommy Gene Mock Sr. of Senatobia, MS; special cousin, Addraine Marshall; and a vast number of cousins and friends.

Serenity Funeral Home and Cremation Society, Tel. (901)377-3543.


Previous Events
Memorial
Serenity Funeral Home and Cremation Society
1632 Sycamore View Road
Memphis, TN 38134