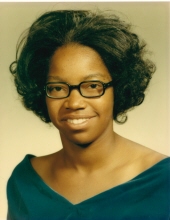 Obituary for Michelle Ogletree
Michelle Clide Ogletree, 66, died May 6, 2021.

On Thursday May 6, 2021, Michelle Black Ogletree, a loving wife, and mother of two children, transitioned to be with the Lord after being blessed with 66 years of life. Michelle was born on March 3, 1955, in Memphis, TN, to James Howard and Erma Robinson Black. She attended Alcy Elementary School, Corry Jr. High School, and Central High School. After graduating high school Michelle attended Hampton Institute in Hampton, VA, where she would meet her future husband, Kenneth Maurice Ogletree, of Cincinnati, Ohio. Michelle graduated from Hampton with a degree in Human Ecology and worked as a social worker. On June 10, 1978, Michelle and Kenneth were married in the back yard of James and Erma and started a marriage that lasted almost 43 years until her passing. They were blessed with son, Winston Maurice, born October 14, 1991, in Atlanta, GA, and daughter Alexandria Michelle, born January 28, 1995, in Tallahassee, FL.
The Ogletree and Black families grew very close and celebrated many successes and memorable events together. Michelle loved traveling with family and together they visited many places: Alaska, Hawaii, and the Caribbean as well as many other places within the United States.
Michelle and Kenneth lived in many places --Philadelphia, Cincinnati, Ohio (where Kenneth grew up), Atlanta and Tallahassee). Kenneth and Michelle Tallahassee for twenty six years, where they raised their children, made lifelong friends, and bought their last home together. Michelle worked in many places in each of the cities where she lived during her career, but her longest employment was in Human Resources for the Florida Supreme Court in Tallahassee, the capital of Florida.
Michelle's strong relationship with the Lord and her Christian faith sustained her over the entire course of her life. She became a faithful member of the Meridian Woods Church of Christ of Tallahassee while staying connected to her childhood church in Memphis. Michelle seldom missed an opportunity to display her faith and live her beliefs. She incorporated those beliefs in every aspect of her life tutoring inner city children, doing volunteer work and in her support of many charitable organizations. Her belief in the goodness was her inner joy and peace in life. To her husband, she was that type of an angel.
Michelle Ogletree, was preceded in death by her Father, James Howard Black and is survived by her mother Erma Black; her brother Jerome Howard Black (Shirley); her two children -- Winston Ogletree of Oklahoma City, Oklahoma; and Alexandria Preston (Rakim) of Denver, Colorado; and her husband Kenneth Ogletree of Tallahassee, Florida. She also leaves her extended family of cousins, nieces, and nephews on both sides of her life, too numerous to name, as well as the multitude of friends that she treated like family, and stayed in contact with from every city in which she lived.
Michelle will be dearly missed and continue to be loved and remembered by all of those mentioned above for as long as any of them continue in life, as it should be. We believe one day we will meet up with her again.
In closing, always remembering Michelle's great sense of humor, "So let it be written! So let it be done!"

Serenity Funeral Home, Tel. (901)379-0861.
Read More
Previous Events
Visitation
Serenity Funeral Home
1638 Sycamore View Road
Memphis, TN 38134
Visitation
Parkway Village Church of Christ
4400 Knight Arnold Rd
Memphis, TN 38118
Service
Parkway Village Church of Christ
4400 Knight Arnold Rd
Memphis, TN 38118
Cemetery Details
Location
New Park Cemetery
4536 Horn Lake Rd.
Memphis, TN 38109