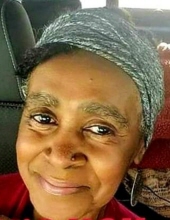 Obituary for Nadolyn Carew
Nadolyn Carew, 69, died August 21, 2019.

Her journey began on Friday, May 19, 1950 in Memphis, TN. Nadolyn was the first born daughter of Sara Louise, and the big sister to three siblings, Patricia (Richard) who preceded her into eternity, Angela (Sam), and brother Harold aka Teddy (Maria).
Nadolyn attended Hyde Park Elementary School and graduated from Douglass High School in 1968 as a coveted 'Daughter of Douglass'.
Nadolyn was a host on Swing Shift, an African American television show produced in the 1960's by her late cousin Mr. Harry Winfield, which features up-and-coming local talent.
Nadolyn leaves to cherish her memories: her children, Nadolyn (Kay-Kay), Noah, Jr., Santigie; grandchildren, Brandon, Anterrio, Trey, Kennady (Kay-Kay), Kemetria, Noah III, Ketecia, Jaicari, Jaidon (Noah, Jr.), Benjamin II, Suminaiyla (Santigie); great-grandchildren, Noah IV, Kyrie, London Rose and soon arriving, Zy'aire and Keelan; nieces and nephews, Caleb, Nia, Jina, Brison, Sara (Patricia), Kevin, Rodney, Kandice and Justin (Angela), Dakari and Tor (Teddy). She was the beloved cousin of Gerald and Maxine Taylor. She leaves a host of great-nieces, nephews and extended cousins.
Nadolyn was a passionate individual who loved music, dancing, laughter, spicy food, ice cream, peppermints and animals. She was a compassionate soul who would help anyone in need.
Nadolyn believed that Jesus was the son of the Living God whom she loved immensely. She also loved her community, her friends, and above all her family. She lived every moment of her vibrant life to its' fullest.
Nadolyn's journey here concluded on Wednesday, August 21, 2019 at 9:04 a.m.
We are eternally grateful to the Living God for allowing us to be a part of her Amazing Life Story.

Serenity Funeral Home, Tel. (901)379-0861.


Previous Events
Memorial
Serenity Funeral Home
1638 Sycamore View Road
Memphis, TN 38134
Inurnment
Serenity Columbarium and Memorial Garden
1662 Sycamore View Rd.
Memphis , TN 38134
Repast
Serenity Place
1648 Sycamore View Road
Memphis, TN 38134
Repast following inurnment
Cemetery Details
Location
Serenity Columbarium and Memorial Garden
1662 Sycamore View Rd.
Memphis , TN 38134