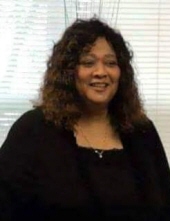 Obituary for Olivia Dobbins
Olivia Dobbins, 71, died November 23, 2019.

Olivia Dobbins was born October 26, 1948 to William A. Dobbins Jr. and Katherine Marie (Samuels) Dobbins in the Central neighborhood of Cleveland, Ohio. She graduated from John Hay High School in 1967 and went on to attend Central State University where she graduated cum laude in 1971 with a degree in Music Education. During her time at Central State, Olivia played with the band and was active in several student activities, including Brute Force, a band of students and professionals who played the area. After college, Olivia returned to her beloved high school where she found great joy teaching music to the students there. Olivia played several instruments, but the trombone was her favorite. While teaching, she took gigs with local bands and entertainers who would travel to Cleveland to perform. Her passion to perform motivated her to relocate to Memphis, Tennessee, to further her music career. She made Memphis her home and made significant contributions to the music and business industries in the city. As a musician, Olivia played for such musical luminaries as Isaac Hayes, Al Greene, Herbie Mann and Herbie Hancock, to name a few. She also was an esteemed trombone player for the Memphis United States Postal Service Letter Carriers Band and the City of Bartlett Community Concert Band. Olivia served as president and CEO of the Black Business Association where she championed minority-owned businesses and served as a seminal voice in the Memphis community for economic development and socioeconomic equality. She was a member of the Tennessee Minority Business Development Advisory Committee and the Coalition of Minority Women Businesses. Most recently, Olivia worked as a supervisor with Shelby County Election Commission. She also found great joy in scuba diving and was a member of the National Association of Black Scuba Divers. Her greatest joy was preaching The Gospel of Yahshua the Messiah. Olivia was called to preach The Gospel as a member of the Institute of Divine Metaphysical Research (IDMR) more than 40 years ago in Ohio, eventually being tapped to serve as the dean of the Memphis Branch and dean of the State of Tennessee. As such, she served as the spiritual leader for students across the state and in Memphis. In her later years, she led spiritual sessions in her home in Frayser and used her considerable video production skills to preach the gospel via YouTube where she uploaded numerous class sessions on the Memphis Side Study channel for the world to see and benefit spiritually from the true Gospel of Yahshua the Messiah. One of her favorite scriptures was Romans 1:19-20 (Holy Name Bible). Olivia spoke the truth. Preached the truth. Served Yahshua (Matthew 25:21) and worshipped Yahweh our Elohim in spirit and in truth (John 4:24). Olivia is survived by her companion Dennis Anderson, brothers William Dobbins III (Charline) and Robert Butler, and a host of cousins, nieces, nephews and friends. She was preceded in death by her sister, Barbara Dobbins. Memorial services for Olivia Dobbins will be held December 7, 2019 at 1:00 p.m. at Mt. Vernon Baptist Church Westwood at 620 Parkrose Road in Memphis, Tennessee. Serenity Columbarium and Memorial Garden in Memphis has charge. Special thanks to Olivia's IDMR brothers and sisters, fellow musicians in the Letter Carriers Band and the Memphis music community and family, friends and loved ones. Well done, good and faithful servant. Well done.

Serenity Funeral Home, Tel. (901)379-0861.


Previous Events
Memorial
Mt. Vernon Baptist Church Westwood
620 Parkrose Road
Memphis, TN 38109