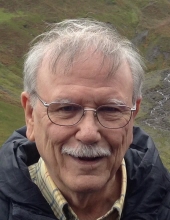 Obituary for Robert Yancey Green
Robert Yancey Green, 75, of Memphis, passed away Tuesday after a brief illness. He was born January 20, 1946, in Memphis. A graduate of Bartlett High School, Yancey earned a bachelor's degree in Business from The University of Memphis. In 1968, Yancey was drafted into the United States Marine Corps. After returning home from the service, Yancey helped run the family business, P. M. Green & Sons.
A lover of history, Yancey knew more details about Memphis than many of us will learn in a lifetime. This love of history led Yancey to his career in sharing stamps, coins and collectible documents and maps. In the mid-1980s, he pursued this interest by purchasing Herron-Hill. Although he loved his stamps and coins, Yancey enjoyed the customers, who visited his shop, most. They were young and old, poor and wealthy. They were mesmerized by the stories he could tell and the information he shared. Because of his vast knowledge and elephant-like memory, he was frequently interviewed by newspapers and magazines.
Through the years, Yancey was influential in the lives of many young men and women. He eagerly mentored anyone who crossed his path. He made a point of bringing his career to them. He shared his knowledge of stamps and coins with many school children and budding collectors. The young people in his church always found themselves on the receiving end of a $2 bill, an Ike dollar or a Boy Scout commemorative coin.
Yancey's knowledge was certainly not limited to stamps and coins. When asked a question, he would look over his glasses, purse his lips and with a twinkle in his eyes, offer some obscure bit of information that most people had never heard. He was a book of knowledge who enjoyed a fierce debate on almost any subject. He simply loved to learn.
Since his retirement, Yancey found a new appreciation for family. Being with his grandchildren at a park, a museum or even in the car brought him joy. He could be found playing tic-tac-toe or reading to them. On car rides, he would laugh as he listened to their innocent, childish enthusiasm and conversations. He and Janice spent time traveling the country to places including Scotland, Alaska, Maine and Long Island to visit family and friends. On Tuesday mornings, Yancey spent an hour or more with his men's Bible study group. This group became more than just a Bible study as they developed close personal ties by supporting and advising each other on subjects far beyond the Bible's teachings.
Yancey was preceded in death by his parents, Carolyn and Perry Green, and a brother, John Green. He is survived by his wife Janice Simonton Green; his son, Justin (Sara); his grandchildren, Abigail and Andrew; and his brother, Bill Green (Harriett).
Visitation will be Saturday, October 2, 2021 from 10 - 11 am at Church of the Holy Apostles, 1380 Wolf River Blvd., Collierville, TN. with service to follow at 11 a.m.
Read More
Previous Events
Visitation
Church of the Holy Apostles
1380 Wolf River Blvd,
Collierville, TN 38017
Service
Church of the Holy Apostles
1380 Wolf River Blvd,
Collierville, TN 38017
Graveside
West Tennessee State Veterans Cemetery
4000 Forest Hill Irene Road
Memphis, TN 38125
Cemetery Details
Location
West Tennessee State Veterans Cemetery
4000 Forest Hill Irene Road
Memphis, TN 38125