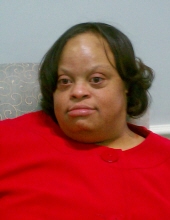 Obituary for Vanessa Williams
Vanessa Williams, 49, died June 26, 2019.

Vanessa Lee Williams was greatly loved. She was a visionary, determined, and had a smile that can brighten a room. Vanessa lived a beautiful life. She defied the odds and was the life of the party. She had a big heart and was very generous. She desired to open her own restaurant one day.
Vanessa was born on November 16th, 1972 in Milwaukee, Wisconsin. She was the youngest of 8 children. When Vanessa was born she was diagnosed with Down syndrome. When the doctors informed her parents of her condition they recommended Vanessa be place into a feeble minded and epileptic living facility for the remainder of our life. Vanessa's Down syndrome was rare and her diagnosis was that she would live her life in a vegetative (A chronic state of brain dysfunction in which a person shows no signs of awareness.) state, with the inability to walk, think, communicate, or speak. Vanessa's parents told the doctors No and brought her home to be raised with her siblings. You see, Vanessa came from a praying God-fearing family and her parents' faith extended her life expectancy from 25 to 46 years old.
Vanessa had many accomplishments. The doctors said she would never walk. She took her 1st Steps when she was 18 months old. The doctors said she would never speak. She was speaking in complete sentences by the time she was 3 years old. They said she would not be able to communicate at all. Vanessa graduated from Hamilton high school in May of 1989. She competed in the Special Olympics and won awards, medals, and certificates in doing so. Vanessa was employed full time with Goodwill industries. She cooked, cleaned, and loved shopping. Her hobbies included bowling, going to the movies, and dancing. She loved God and her family. She had a big personality and loved to have fun. They said she would never write, she owned hundreds of writing journals, she drew pictures and even made a blue print for the restaurant she desired to open one day. They said she would live her life in a vegetive state the only thing "vegetative" around her were the ones she ate off her plate.
Vanessa is preceded in death by her father George Williams Sr and brother Keith Williams Sr. She leaves her mother Vessye Williams, her siblings George (London Williams) Williams Jr., Craig Williams, Carl Williams, Sonya (Philip), Dana (Edward Taylor) Taylo ,Frederick (Phaliashia Williams) Williams, and her best friend Libbie Outlaw, as well as, a host of aunts, uncles, nieces, nephews, relatives, and friends. Vanessa was victorious and was a woman of great wealth. She will truly be missed.

Serenity Funeral Home, Tel. (901)379-0861.


Previous Events
Service
Serenity Funeral Home
1638 Sycamore View Road
Memphis, TN 38134
Committal Service
West Tennessee State Veterans Cemetery
4000 Forest Hill Irene Road
Memphis, TN 38125
Cemetery Details
Location
West Tennessee State Veterans Cemetery
4000 Forest Hill Irene Road
Memphis, TN 38125