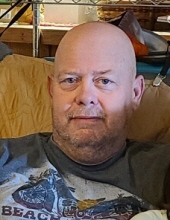 Obituary for Wallace McIntosh
Wallace "Wally" Harold McIntosh

On January 20, 2022, Wallace "Wally" Harold (Ervin) McIntosh died from cancer in his home in Drummonds, TN while being comforted by his wife. He was 57 years old.

Wallace was a loving husband, father, and grandfather. He is survived by his wife, Lisa Ranee McIntosh, with whom he shared 36 wonderful years of marriage. He leaves behind his sons, Joshua McIntosh and Jacob McIntosh; his daughter-in-law, Brandy McIntosh; and his granddaughter, Peyton McIntosh.

Wallace was born on August 18, 1964 in Memphis, TN. He grew up in a blended family which consisted of two fathers and four mothers. He is preceded in death by his biological parents, Viola Delaney and Lloyd Ervin; and his adoptive father, Paul (Mac) McIntosh. He is survived by his mothers, Alma Ervin, Becky McIntosh, and Nancy McIntosh; his brother, Jimmy McIntosh; and his four sisters, Amy Bennett, Nikki Ditto, Melissa White, and Brittney Hagmaier; and many nieces and nephews.

No funeral services will be held as Wallace's request was to be cremated and to have his ashes combined with his late dog, Mini. In lieu of sending flowers, Wallace wished for any donations to be used to provide care for his and his wife's rescue animals. Donations can be made using PayPal: lisaranee13@gmail.com or Venmo: @Lisa-McIntosh-22

Serenity Funeral Home, Tel. (901)379-0861.