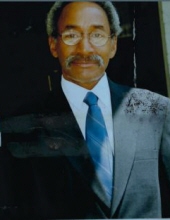 Obituary for Whittier A. Sengstacke
Whittier A. Sengstacke, age 76, died February 20, 2021.

Whittier Sengstacke Jr. was born in Chicago on June 22, 1944. He was the second of Mattie and Whittier Sengstacke Sr.'s four children. Mr. Sengstacke died Saturday February 20, 2021. His uncle, John Herman Henry Sengstacke Jr., founded the Tri-State Defender in November 1951. His father came to Memphis as the publisher and editor of the paper in the early 1950's.The publishing empire he was born into was built upon the pioneering work of his John Sengstakce's uncle, Robert Abbott. Once John Sengstacke assumed leadership, he built the largest Black-owned newspaper chain in American history with his brothers Whittier, Fredrick both Defender executives; two sisters, Ethel Sengstacke and Flaurience.
at his side.

As publishers of Black newspapers across the nation provided extensive and detailed coverage of 14-year-old Till's lynching (Aug. 28, 1955) and the ensuing trial, the Tri-State Defender did likewise, with notable photos from reknowned civil rights photographer Ernest C. Withers. Following Mamie Till's vow to let America see what the lynching had done to her son, African-American newspapers ran photos of the bloated, disfigured body. After becoming editor of the TSD in the late 1960s, Mr. Sengstacke continued writing about Till's lynching, along with others, in the Mid-South.

The white printer, who produced the Tri-State Defender for distribution at that time, refused to print the newspaper because Till's murder and other lynchings consistently received prominent coverage. During that critical period, after each edition had been laid out, Mr. Sengstacke flew to Chicago to get the newspaper printed at the Chicago Defender. Sengstacke Jr., was the editor-in-chief at the Defender in the late 1960s. He reported on stories during the Civil Rights era. As a reporter, he provided a Black perspective, which was widely overlooked during that time.

Whittier considered one of his greatest achievements to have been earning two degrees simultaneously when equal access to higher education was not readily available to African Americans. Whittier earned dual bachelor's degrees in speech and journalism from Tennessee State University and later gained a Master's in Journalism from the University of Chicago. Widely praised as a stage actor in Chicago, Mr. Sengstacke was an avid lover of the arts. When he returned to Memphis he often created plays and puppet shows to perform at the Memphis Public Library to expose local youth.

Whittier Sengstacke leaves two sisters: Ethel Sengstacke of Memphis and Astrid Sengstacke Jones of Sugar Land, Texas; his brother, Fred Sengstacke of Langhorne, Pennsylvania, and a host of other relatives and friends.

Serenity Funeral Home and Cremation Society, Tel. (901)377-3543.


Previous Events
Memorial
Serenity Funeral Home
1638 Sycamore View Road
Memphis, TN 38134