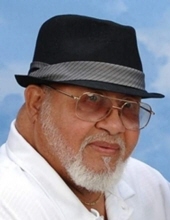 Obituary for Willie Brantley, Jr.
Willie Brantley, Jr., 77, died May 10, 2019.

SFC Willie J. Brantley Jr. "Tony", age 77, of Tallulah, LA, succumbed to his battles with his ailments and passed away on Friday, May 10, 2019, at Methodist Central in Memphis, TN.

Tony was born in Tallulah, LA to the late Mr. and Mrs. Willie and Matilda Brantley Sr. on July 21, 1941. He was a proud member of the United States Army for over 30 years. Tony was very proud of his accomplishments in the military, and loved sharing stories of his time in service, but his journey didn't end there. After retirement he served his community in multiple facets such as becoming a Police officer for the Anchorage, AK police department, a Deputy Sheriff for Shelby County, a travel agent, and even a dispatcher for Shelby County School bus drivers. In his free time, Tony loved to hunt, fish, bowl and later became a coin collector, but he was most passionate about spending time with his family. He was an avid member of New Wrights Chapel M.B. Church where he served as a member of the Senior Social Group.

Tony is preceded in death by his parents, Mr. and Mrs. Willie and Matilda Brantley Sr., his late wife, Annie Z. Brantley, and brother and sisters, Floyd Brantley, Hester Woolfolk, Regina Brantley, and Rowena Brantley.

Tony is survived by his wife Lavern Brantley, children Michael, Gregory, Nicole Milton (Larry), Renee, Jeannetta, Stacey, Anthony Draper (Charlotte), Kawarren Draper (Juanita), Letoria Rayford (John), and Malcolm Draper, siblings Marian, Jody, Reginald, Wayne, Erma Jean Robinson (James), Catherine Lee, Robert Adel (Patricia), Maurice Batemon (Arlean), Clara Pierce, Gloria Taylor (Henry), Versie Batemon, Caldonia Batemon, Zelmer Robertson, and a host of grandchildren, great-grandchildren, nieces, nephews, cousins and friends.

Serenity Funeral Home, Tel. (901)379-0861.


Previous Events
Visitation
Serenity Funeral Home
1638 Sycamore View Road
Memphis, TN 38134
Service
New Wright Chapel
3892 Knight Arnold Rd
Memphis, TN 38118