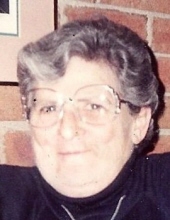 Obituary for Alice Lillian Hartley
ALICE LILLIAN HARTLEY, 82, died at Ridgemont Manor, Raleigh, TN on October 30, 2016. Alice was born in Frenchman's Bayou, Arkansas on October 9, 1934. She was preceded in death by her father, George Richard Hartley, and mother, Alice Lillian Goble. Alice was also preceded in death by six sisters, Leota, Benton, Nita, Ruth, Sara and Francis, and three brothers, George, Jr., Joe and Pat.

Most her adult life she lived in Chapel Hill, NC and worked as a print setter for the newspaper. She was also co-owner of a small print shop. In 1992 she moved to Millington, TN to be nearer family.

Alice requested no services and burial will be at Bassett Cemetery in Osceola, AR
at a later date.
Read More