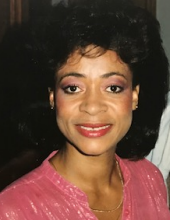 Obituary for Beatrice Terry
Beatrice "Bea" Currie Terry was born in Stanton, Tennessee on Wednesday, July 27, 1949. She departed this life and returned to our Lord and Savior Jesus Christ on Monday, February 24, 2020. She made her transition peacefully at Baptist East Hospital at age 70.

Bea was one of 14 children of the late Pauline (Bowles – Short) and Hubert Currie. She accepted Christ and was baptized at Douglas Chapel CME Church in Stanton, Tennessee at the age of 12. She was educated in the Haywood County Public School System, where she graduated from Carver High School in Brownsville, Tennessee in 1967.

Bea was always artistically talented. As a child, she designed doll clothes with a creative eye – adding inset sleeves and ruffles for something more elaborate than the customary sack dress. Shortly after moving to Chicago in 1967, Bea expanded her artistry working as an assistant in a beauty salon. There she dedicated herself to cosmetology, learning the techniques of relaxing, cutting and setting hair styles. Ever determined, not even a sight impairment in her right eye could hold her back from becoming the talented hair stylist she was destined to become. In 1999, Bea studied and received her cosmetology license. Before that, she did hair for family and friends for many years, re-creating any hairstyle that she saw as well as creating new ones.

While in Chicago, Bea met her future husband – Charles Terry. They made Memphis, Tennessee their home in 1981, where they were married on February 25, 1994. Bea was a faithful and devoted wife for 17 years, until Charles' death in 2011. Bea was a wonderful, nurturing aunt to her many nieces and nephews. She had a way of making every one of them feel special in her own way, leaving a lasting impact of love on their hearts.

Bea enjoyed music – Aretha Franklin and Tamela Mann were her favorites, dancing, gardening, dressing up, and loved taking photos. Blue was her favorite color and she liked multi-color florals. She also mastered her husband Charles' technique of making the best barbecued ribs ever – flavorful, tender and juicy. However, her best asset was her character. She was known to be sincere, loyal and trustworthy, with a positive outlook on life. Most of all, she was generous – with her time, hospitality, encouragement and consideration of others. Like her mother Pauline, she would give you anything that she had – with a smile.

In her final days, Bea maintained her Leo fighting spirit. She was to be admired for being the "Happy Warrior" against her fiercest adversary – CANCER, and for her determination to remain in the comforts of her home, with the company of her beloved pet Blue Dot! She sincerely appreciated the support of her family and friends and was sustained to the end by her faith in God.

She leaves nine siblings to cherish her memories – Marie Bester of Memphis, TN; Ida Mae Harris of Fairburn, GA; Vivian (John) Bowers of Nashville, TN; Paulette Change (Lamont) of Bluffton, SC; Sylvia Currie of Chicago, IL; George (Linda) Currie of Memphis, TN; Larry (Jeanette) Currie of Nashville, TN; Rickey (Elaine) Currie of Atoka, TN; and Jimmy (Vickie) Currie of Clarksville, TN; and a host of nieces, nephews, cousins, and friends.

She was preceded in death by her late husband Charles Terry; four brothers – Hubert Currie, Jr. of Stanton, TN; Tommie Louis Currie of Chicago, IL; Jessie Louis Short of New York, NY; and James Louis Clark of Stanton, TN; sisters-in-law Delores Head of Chicago, IL and Emma Terry of Chicago, IL; and parents Hubert and Pauline Currie of Stanton, TN.

Although she is not physically here with us today, her spirit and memories will remain with us always through our shared family values and experiences. We will always love her and hold her close in our hearts!

Serenity Funeral Home, Tel. (901)379-0861.


Previous Events
Service
Mississippi Boulevard Christian Church
70 N. Bellevue Blvd.
Memphis, TN 38104
Committal Service
West Tennessee State Veterans Cemetery
4000 Forest Hill Irene Road
Memphis, TN 38125
Cemetery Details
Location
West Tennessee State Veterans Cemetery
4000 Forest Hill Irene Road
Memphis, TN 38125