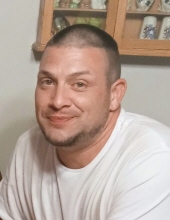 Obituary for Derrick Gray
Derrick Gray, age 40, died December 8, 2021.

Derrick Van Gray was born on October 25, 1981 to proud parents, Cynthia Gray Lavender and Jerry Don Gray II ( deceased). He left this life on December 8th, 2021. He was preceded in death by his grandparents, Harley and Ruth Sandusky, and Jerry and Virginia Gray. He was the youngest of three boys, the oldest being, Jerry Don Gray the 2nd. His big brother, Marshall Neil Gray, states, " he was an incredible brother" and he will never forget his very best friend.

He leaves behind his wife, Kristin Hawkins Gray; and four children: Jandon Holland, 19, Ruthie Gray, 15, Riley Gray, 10, and Gavin Gray, 6. One aunt awaits his arrival in Heaven while his 3 uncles remain. Derrick was blessed to have too many nieces, nephews, and cousins to list, but all will grieve his loss.

Derrick was a member of Hickory White Baptist Church and has had an open line of communication with the Lord since he was baptized as a young boy.

He wanted to become an Army Reservist but was unfortunately unable to follow that dream due to an injury during basic training. However, he wasn't stopped by such a hard blow and instead held off any anger, which was his way, and continued to love life and help anyone he was able to. He loved to draw, just like his momma, and he played guitar like his daddy did. He enjoyed video games with his son who says: "he's the greatest daddy ever". He created jokes like daddy and art like momma. He had a big heart and was a wonderful son to his mother, and a father to his children. He was a loyal friend, and a caring nephew.

His wife of 14 years will never let the love he gave her be forgotten, This world will be a bit darker without Derrick's light, but we must all remember he now lives in Heaven above with our Lord and Savior and awaits our arrival with peace in his heart, few have ever found.

Serenity Funeral Home and Cremation Society, Tel. (901) 377-3543.
Read More
Previous Events
Memorial
Serenity Funeral Home
1638 Sycamore View Road
Memphis, TN 38134