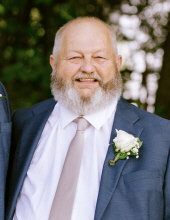 Obituary for Jackie Randall Beene
Jackie Randall Beene, age 58, died November 9, 2021.

Jackie Randall Beene was born on April 29, 1963 in Berwyn, Illinois. He spent the majority of his childhood and adult life living in Olive Branch, MS. He graduated from Olive Branch High School in 1981. Jackie was currently self-employed doing interior remodeling and handy man work for various home investment properties. He worked for over 15 years as a Pizza Hut delivery manager and for Andersen General Contracting, LLC for over 10 years.

Jackie was a devoted husband, father, family member and friend. He never met a stranger and left this world a better place for anyone who knew him. He was a kindhearted and wonderful man who left this world way too soon. He was a prankster and always had a smile on his face. His positive, fun-loving attitude was always infectious for everyone around him.

He was a dedicated member of the Olive Branch Alumni Athletic Association and attended almost every Olive Branch High School Football game (both home and away) for years. He was also an avid University of Memphis Football and Basketball fan. He attended UofM football games, as a season ticket holder, for over 35 years. He had also been a UofM basketball season ticket holder for the last 3 years.

Jackie leaves behind a wife, Donna Beene of Olive Branch, MS; a son, Matthew Randall Beene and daughter-in-law (Maddie) of Memphis, TN; a mother, Patsy Stark Beene of Olive Branch, MS; a sister, Lori Beene Smith McDonald and her husband Rondy of Southaven, MS, a brother, Scott Beene and his wife Renea of Olive Branch, MS; a sister, Kristy Beene Casswell of Horn Lake, MS; a brother-in-law, Tim Tolbert and his wife Debbie of Eudora, MS; a sister-in-law, Penny Tolbert Bagwell and her husband Scott of Byhalia, MS; a sister-in-law, Jennifer Tolbert Allen of Byhalia, MS and several nieces, nephews and other family members and friends who he dearly loved. He was preceded in death by his father, Elmer Matthew Beene.

Jackie's final wishes were that there would be no funeral with tears and sadness. He wanted his family and friends to have a Celebration of Life ceremony instead. This ceremony will be held in mid-January (after the holidays). The exact date and location will be posted on his Facebook page as soon as arrangements have been finalized. Jackie was an avid cook and he loved pot-luck dinners so this celebration will be catered with pot luck dished welcomed.

Jackie was an advocate for homeless animals. He was a foster for several years and continued to help with fundraisers for New Beginnings Animal Rescue. Anyone wishing to make a donation in his name can do so at: New Beginnings Animal Rescue, PO Box 1963, Olive Branch, MS 38654 or donate via their Facebook page at https://www.facebook.com/NEWBEGINNINGS11 or webpage at http://www.newbeginningsanimalrescue.net/support-nbar2.html.

Serenity Funeral Home and Cremation Society, Tel. (901) 377-3543.