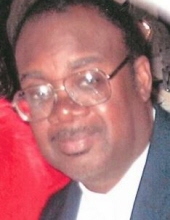 Obituary for Jimmie D. Buggs
Jimmie D. Buggs, 75, died August 12, 2019.

"A Time to Be Born"
JIMMIE DALE BUGGS was born May 6, 1944 in Houlka, Mississippi to the late Mary Lue Crockett-Buggs and the late Ephin Buggs. He was the third of seven children born to this union. Jimmie's parents moved the family to East Chicago, Indiana in 1946 when he was two years old. He moved to Gary, Indiana in 1980 and later to Olive Branch, Mississippi in 2014. Jimmie became born again by accepting Jesus as his Lord and Savior at Living Word Christian Center in Gary, IN under the leadership of Pastor Whitfield Thomas.
"A Time to Learn…A Time to Grow"
JIMMIE graduated from Washington High School in East Chicago, Indiana in May of 1963. He always talked about how his teachers would punish you if you did wrong at school and away from school. He enjoyed watching the history channel on T.V. and watching videos about the Civil War. He had an excellent memory.
"A Time to Work"
JIMMIE started working at Inland Steel Mill in June of 1963 and worked for 32 years; retiring in 1995. He also worked as a custodian for Gary Community School Corp. for 15 years and retired in 2015. Jimmie was an exceptional provider for his family.
"A Time of War"
JIMMIE was drafted into the U. S. Army in August of 1965 where he was trained to be a medic. He was honorably discharged on July 4, 1967 at 12:00p.m. He said that he will never forget that day.
"A Time to Laugh…A Time to Enjoy"
JIMMIE enjoyed spending quality time with family and friends talking about the good old days and things that happened on Carey Street. He loved going over to his mother's house daily eating the amazing food she cooked, talking to his friend, Hosea, and getting his stop watch to take Jason and Chris to the track meets. He enjoyed jogging and skating.
"A Time to Love"
JIMMIE was united in holy matrimony to Cartella Gordon on November 23, 1979. They showered each other with love and affection for 39 years and 9 months until God called him home. To this union two children were born; Jason Fitzgerald Buggs and Christopher Lance Buggs.
"A Time to Die"
JIMMIE entered into his eternal home in heaven on August 12, 2019. He was preceded in death by his parents, Mary Lue & Ephin Buggs; brothers, Eddie Buggs and Trent Buggs; and sister Linda LuEllen.
"A Time to Weep…A Time to Mourn"
JIMMIE DALE BUGGS leaves to treasure and cherish his memories:
Wife
His devoted, loving, faithful, caring soulmate, best friend, and wife of 39 years and 9 months, Cartella Gordon-Buggs
Children
Three sons, Christopher Buggs of Gary, Indiana, Jason Buggs of Terre Haute, Indiana, and Jimmy Lewis (Reddie) Buggs of Brooklyn Center, Minnesota; one daughter, Wanda Rena Buggs of Merrillville, Indiana
Grandchildren
Joshua Buggs, Kyla Buggs, Jaylen Buggs, Jimmy Lewis Buggs, Jr., and Jasima Buggs
Great Grandchild
Nevaeh Buggs
Siblings
Bunny Gary & Luenette Brooks both of East Chicago, Indiana, Roland Buggs of Indianapolis, Indiana
Sisters and Brothers-In-Law
Debra Gates of Lawrenceville, Georgia, Erma Gibson of Muskegon, Michigan, Ramona Hightower of San Antonio TX, Ira Gordon of Jackson, Mississippi, and Earlie Gordon, Jr. of Columbus, Mississippi
Best Friend
Hosea Washington of East Chicago, IN
Others
A host of nieces, nephews, great-nieces & nephews, great-great nieces & nephews, cousins, and friends

Serenity Funeral Home, Tel. (901) 379-0861.


Previous Events
Visitation
Serenity Funeral Home
1638 Sycamore View Road
Memphis, TN 38134
Service
World Overcomers
6655 Winchester Rd.
Memphis, TN 38115
Committal Service
West Tennessee State Veterans Cemetery
4000 Forest Hill Irene Road
Memphis, TN 38125
Cemetery Details
Location
West Tennessee State Veterans Cemetery
4000 Forest Hill Irene Road
Memphis, TN 38125