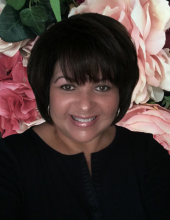 Obituary for Pamela Harris Miles
Pamela Ann "Pam" Harris Miles transitioned in peace on February 2, 2022 at the age of 66 in Memphis, Tenn. with her loving family and friends at her side.

Though she called Memphis home for nearly 17 years, Pam was a proud "East Coast" native. She was raised in Baltimore's Ponderosa neighborhood by her loving parents, James and Rebecca Harris, who preceded her in death. Pam shared her father's passion for music from an early age and was a classically trained pianist. Valuing a strong education, her parents enrolled her at Baltimore's Western High School—the nation's oldest all-girls public high school—from where she graduated. She went on to earn her bachelor's degree from the prestigious Georgetown University in Washington D.C., laying the foundation for a successful career in marketing and advertising that spanned more than four decades.

As her career flourished, Pam relocated to Philadelphia and returned to the
D.C. metropolitan area, where she raised her only daughter from a previous marriage, Caroline. A proud mother, Pam shared her classic sense of style and love of the arts, culture, and "real seafood" with Caroline. They regularly went on outings to museums, musicals, concerts, and mommy-daughter
dinner-dates.

Once Caroline headed to college in New Orleans, La., Pam moved to Memphis for a position at Ducks Unlimited, where she focused on its mission to preserve and protect wetlands. Often joking that they were "destined to reconnect with their deep Southern roots," Caroline eventually joined Pam in Memphis where they bonded over their endless love of Caroline's son and Pam's only grandchild, Cameron. He was the light of his beloved YaYa's life, and she was a regular fixture at all of his games, activities, and performances.

Pam's warm heart, endless generosity, quick humor, and bright smile brought joy to the lives of her family, friends, and colleagues wherever she lived. Although raised an only child, she was loved like a sister by her friends in Baltimore and Memphis. She was a faithful Christian and member of First Baptist Church - Broad.

Pam is survived by her daughter and son-in-law, Caroline and Chris Collins; her grandson, Cameron Collins; her granddoggy, Creed; and several cousins in Baltimore and Lynchburg, Va.

A memorial service will be held at 10 a.m. on February 19, 2022 at First Baptist Church - Broad in Memphis.


Serenity Funeral Home, Tel. (901) 379-0861.


Previous Events
Memorial
First Baptist Broad
2835 Broad Ave.
Memphis, TN 38112