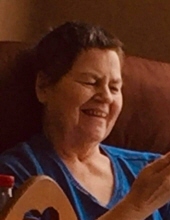 Obituary for Sallie McCune
Sallie Kayline (Kay) McCune, 64, passed away May 10, 2021 at her home in Memphis, TN. A Celebration of Life will be held at 1pm on Saturday, May 15, 2021 at her families' residence in Winona, TX.
Kay was a department manager at Wal-Mart for 19 years. She was extremely passionate about helping those in need. Her home was always open to friends and family.
Kay was proceeded in death by her father, Russell Craft, her brother Ron (Cowboy) Craft and her granddaughter Adriana Humbers. She is survived by her 3 children, Phyllis McCune, Mary Humbers and Kallie Gann, sons-in-law, Shane Humbers and Benjamin Gann, 5 grandchildren, Kai-Lyn Andrysiak, Landon Martinez, Richard Harris, Clayton and Grayson Humbers and 2 great grandchildren, McKenzee and Nova Dobbs.

Serenity Funeral Home (901)379-0861.
Read More